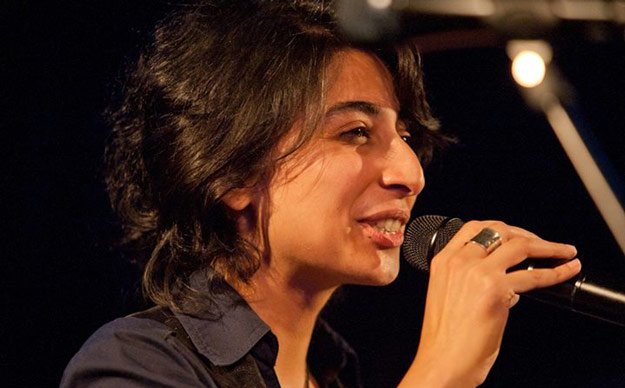 ---
KARACHI: She was an integral part of the revival of independent Pakistani music in the early 2000s, her new album Bird Under Water introduced a new music genre -- 'neo-sufi' -- to the world, and she recently lent vocals for Bollywood film Talvaar.

Ladies and gentlemen, Arooj Aftab.

The Express Tribune gets up-close and personal with the rising musician as she gives us an insight about her new genre, Bollywood music debut and more.

How did you venture into Sufi music?

I was listening to a lot of Begum Akhtar, Bade Ghulam Ali -- just a lot of Thumris and Khayal gayaki (modern genre of classical singing), in general. It felt very grounding, gave me a sense of peace. In my own music, I was building a style that reflected that peace, using minimal and simple music techniques. I wanted to create a music that was calming and simple. To me that is Sufi music.

When I moved to New York, Abida Parveen came to perform that year and I had the pleasure of spending some time in her company. That was a very special and an important moment for me. She is so Sufi, and just wow everything she says, how she moves, and my God, when she sings... It definitely tugged at my heartstrings and I knew that I wanted to delve deeper into Sufi music and poetry, Kaafi etc.




Besides Abida Parveen, are there other Sufis who have inspired you?

Rumi, Bulleh Shah… and generally any folks or art that has a message of simplicity and kindness

Can you define 'neo-sufi' music?

Well, I mean in terms of neo versus retro, I read a really great piece about it on NPR Music (National Public Radio) -- essentially retro seems to be more about paying homage than innovating; it's more about the beautiful imitation. Whereas, I see neo-sufi as returning to that moment in order to build upon it and make something new that's both musically and politically resonant for the contemporary moment.

How do you take inspiration from Sufism and translate it into music?

It is very much about the feeling that music leaves you with; calmness, peace, patience, simplicity. And then sadness, longing, wandering, searching, openness, oneness. I try to take all these qualities and weave them into my music.

Your album Bird Under Water is a mix of jazz, folk and Sufi music, how did people receive this new fusion?

The response has been overwhelmingly positive. I am very pleased.




At the moment you cater to a niche group, do you feel the need to reach out to a wider audience by branching out into other genres?

I am really content with the new genre that I just formed. I suppose if I need to branch out, it will happen organically. I am working on creating an alter ego, and we'll just have to see what type of music she makes.

Your new project is a collaboration with musicians and dancers from Spain, how do you plan on incorporating neo-Sufi music with Flamenco?

It has been a very inspiring experience working with the incredible dancer Sonia Olla and singer Ismael Fernandez on Flamenco Sufi music. It wasn't that hard to find a link between the two styles. After all, the gypsies migrated from India to Spain. There is also a lot of speculation that Kathak and Flamenco dance come from the same root. Their rhythmic cycles are also kind of similar to ours, and the story telling has similar themes. I love the dramatic guitar chords, the pounding feet and clapping hands, the intense vocal melodies. I feel entranced when I watch their performances.




You have composed a song for Mehreen Jabbar's  upcoming film Dobara Phir Se, what can the audience expect from it?

I'm really excited about it! It is at a very romantically charged moment of the film, and I am actually in it myself singing it… I am keen on seeing how that turns out. It was actually a song I was writing for my next album but Mehreen liked it for her film and since she is my buddy I gave it to her.

You also lent vocals for Bollywood film Talvar. How did this opportunity come about?

I was at a friend's house party in New York, it was her birthday and she asked me to sing her a song. Vishal Bhardwaj (music composer for Talwar) was at that party. Soon after he invited me to sing the song Insaaf for the film. It was a real honor for me. The lyrics are by Gulzar and the movie is written by Vishal.

Any comments on how the music industry in Pakistan has grown since you first started out?

I'm definitely very excited to see how many more women are in the music scene. It feels really great. Overall, I feel very happy for how the art scene is shaping up in Pakistan in TV, film and music. I do think that consumers, however, could do more to support musicians by not pirating their work and being willing to pay musicians well for performances.




Any words for aspiring singers in Pakistan, bearing in mind how a music career is perceived here?

I think anywhere in the world having music as a career is very challenging. It is definitely for those who are obsessed with following their heart and making dreams come true. I would recommend acquiring a technical skill in the field. I work as an audio and video editor and that supports me tremendously. Musically, my advice is to always push for more and more innovation and uniqueness in your work. And collaborate with other musicians as much as you can.

A short rapid fire round with Arooj:

If you get a chance to be a part of Coke Studio --

I don't do soda.

If you had the choice to choose another career, what would it be?

A marine biologist. I am kind of obsessed with water/ the ocean I don't know if you can tell yet.

If you could bring one musician back to life for a jam session, who would it be?

Oh God, so many! But if I had to pick one right now, it would be Begum Akhtar.

One country you would love to perform in?

I haven't performed in Pakistan yet! It would be wonderful to be invited with my band to perform.

Where do you see yourself 10 years from now?

Older, wiser, with more music published.

Describe what Sufism means to you in one phrase

The lightness of being.

Check out her song Insaaf from the recently released film Talvar:


COMMENTS (1)
Comments are moderated and generally will be posted if they are on-topic and not abusive.
For more information, please see our Comments FAQ