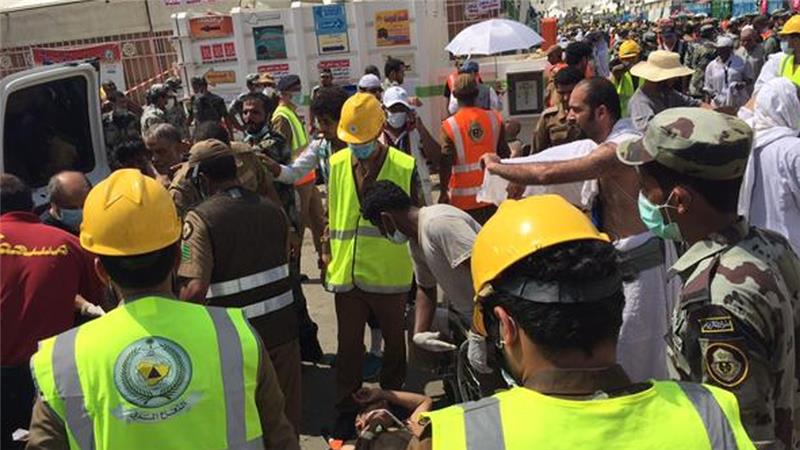 ---
NEW YORK: Iran's supreme leader Ayatollah Ali Khamenei demanded Saudi Arabia apologise on Sunday for a stampede that killed nearly 770 pilgrims at the Hajj, at least 144 of them Iranians.

"Instead of passing the buck and playing a blame game, the Saudis should accept their responsibility and apologise to the world's Muslims and the bereaved families," Khamenei said in comments reported by the official IRNA news agency.

Iranian leaders have been fiercely critical of Saudi authorities' handling of safety at the Hajj and questioned whether Riyadh was fit to continue organising the annual pilgrimage.

Read: Iran says 131 nationals among Hajj stampede dead

Khamenei's comments came just hours after Saudi Foreign Minister Adel al Jubeir hit back at the criticism from its regional rival, saying it "shouldn't play politics with a tragedy".

Culture Minister Ali Janati is to head a delegation to Saudi Arabia to follow up on 323 Iranians Tehran says are missing, but IRNA said his team still has not received visas.

On Saturday, Tehran summoned Saudi Arabia's charge d'affaires for the third time since the stampede, to press the kingdom for greater cooperation.

President Hassan Rouhani appealed for UN mediation with the Saudis in a meeting with UN chief Ban Ki-moon in New York, state television reported.

Read: Death toll in hajj crush rises to 769: Saudi health minister

"Sadly, Riyadh isn't offering enough cooperation on the missing pilgrims and the transfer of the dead and injured," it quoted Rouhani as saying.

"It is crucial that the UN remind Riyadh of its legal and humanitarian obligations."

Hajj stampede: Saudi Arabia rejects Iran criticism

Earlier, Saudi Arabia firmly rejected Iran's criticism of its handling of the Hajj pilgrimage Saturday after Tehran demanded an inquiry into a stampede that killed at least 769 people.

"I believe the Iranians should know better than to play politics with a tragedy that has befallen people who were performing their most sacred religious duty," foreign minister Adel al-Jubeir said.

Iran's President Hassan Rouhani, who like Jubeir is in New York for the UN General Assembly, has demanded an inquiry into Wednesday's disaster, in which at least 136 Iranians died.

But Jubeir, delivering remarks along US Secretary of State John Kerry, insisted that Saudi Arabia was on top of the situation.

"The kingdom has had a long history of spending tremendous resources to care for the pilgrimage to ensure that the pilgrims who come there have a successful pilgrimage," he said.

"And we will reveal the facts when they emerge. And we will not hold anything back. If mistakes were made, who made them will be held accountable," Jubeir said.

Read: Iran holds anti-Saudi protest over hajj stampede deaths

"And we will make sure that we will learn from this and we will make sure that it doesn't happen again. I want repeat again this is not a situation with which to play politics."

"I would hope Iranian leaders would be more sensible and more thoughtful with regards to those who perished in this tragedy, and wait until we see the results of the investigation," he added.

The dispute came amid tensions between Iran and Saudi Arabia over the conflicts in Yemen and Syria that Riyadh views as a bid by Tehran to expand its influence in the region.