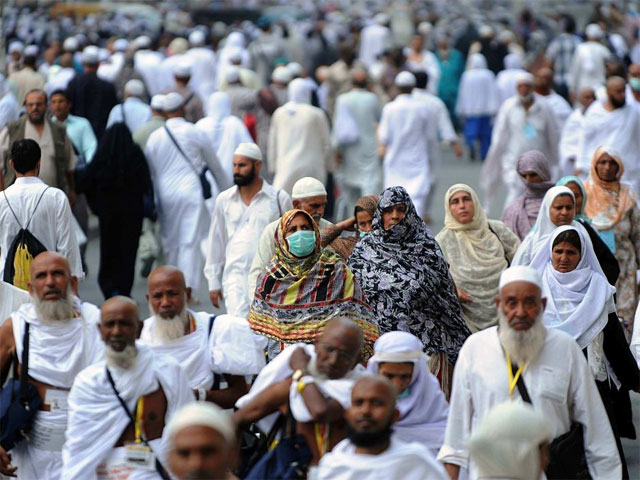 ---
MINA, SAUDI ARABIA: At least 11 Pakistanis were killed and 17 injured during the Hajj stampede, Radio Pakistan reported.

The deceased included Hafsa Shoaib, Zarin Naseem, Syeda Narjis Shahnaz, Bibi Zainab, Mahmood Arshad, Rasheedan Bibi, Zahid Gul, Dr Ameer Ali Lashari and Makhdoomzada Syed Asad Murtaza Gillani.

Seventeen Pakistani pilgrims had sustained injuries during the tragedy. Ten of the injured have already been discharged from the hospital after receiving proper treatment.






Prime Minister Nawaz Sharif directed authorities concerned to make all possible efforts in locating the missing Pakistani pilgrims.

However, a number of missing pilgrims might have separated from their families as they usually do during the movement from one holy place to another while performing the Hajj ritual.

Eighty-six of the earlier reported missing families have already been united, the FO has learnt.

Blame shifted towards Saudi authorities on Friday after a stampede at the Hajj killed at least 717 people, in the worst tragedy to strike the annual Muslim pilgrimage in a quarter-century.

The disaster, which also left several hundred people injured, was the second deadly accident to hit worshippers this month, after a crane collapse in the holy city of Makkah killed more than 100.

Read: Witnesses blame Saudi Arabian officials for Hajj horror

At the scene, bodies lay in piles, surrounded by discarded personal belongings and flattened water bottles, while rescue workers laid corpses in long rows on stretchers, limbs protruding from beneath white sheets.

Dark-skinned and light-skinned, they died with arms draped around each other.

"There was no room to manoeuvre," said Aminu Abubakar, a Nigerian pilgrim who escaped the crush of bodies because he was at the head of the procession.

Fellow pilgrims told him of children dying despite parents' efforts to save them near the sprawling tent city where they stay.

"They threw them on rooftops, mostly tent-tops... Most of them couldn't make it."

The stampede broke out in Mina, about five kilometres (three miles) from Makkah, during the symbolic stoning of the devil ritual. The Saudi Arabia civil defence service said it was still counting the dead, who included pilgrims from different countries.

Read: At least 717 pilgrims killed, 863 injured in Hajj stampede at Mina

Iran said 131 of its nationals were among the victims, and accused regional rival Saudi Arabia of safety errors.

Pilgrims at the scene blamed the Saudi authorities and said they were afraid to continue the Hajj rituals.

But Abubakar, an AFP reporter based in Kano, Nigeria, said that on Friday morning crowd control had improved and the number of pilgrims was much less.

"Now it's more organised... There's more control from the entry points. We don't expect a repeat of what happened," he said while moving back to the stoning site on the second of three stoning days.
COMMENTS (3)
Comments are moderated and generally will be posted if they are on-topic and not abusive.
For more information, please see our Comments FAQ