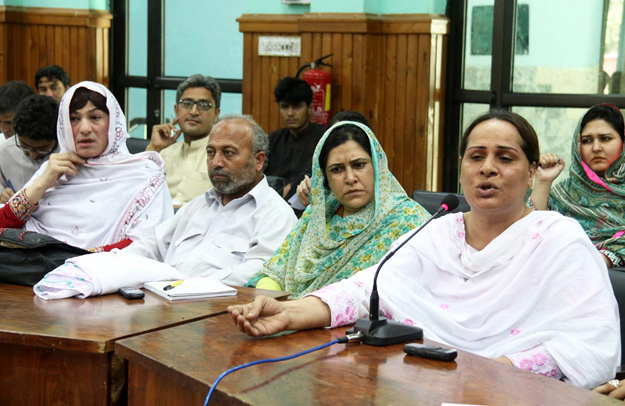 ---
They are taken as nothing other than entertainers, sex workers and beggars. They do not enjoy rights equal to those who are considered 'normal' and are routinely harassed, discriminated against and even subjected to violence as soon as we set foot in the public sphere.

This was said by more than one person who identified as transgender at Peshawar Press Club on Thursday. The event was put together by Blue Veins, a non-profit.

Transgender persons had travelled to the city all the way from 15 districts to discuss every day issues faced by them. Mentioning disaster management authorities, government departments and international agencies, they established how their cause is completely overlooked in humanitarian aid and programmes. Neena, from Mardan, said, "We were the first to be displaced from the tribal areas following the arrival of militants. Yet everyone turned a deaf ear to our needs so much so that we have not even been registered by the government and the United Nations."

Speakers said displacement and violence, combined with poverty and weak institutional capacity, have led to an increasingly unstable situation for transgender people. Activist Neeli built on Neena's explanation. "Even during the 2005 earthquake, 2010 floods and the Swat operation, transgender people had to flee their homes and no one was willing to accept us in safer areas."

Also talking on the occasion, Blue Veins Program Coordinator Qamar Naseem said issues pertaining to gender identity and sexuality are swept under the carpet because of the stigma associated with them. "These people are forced by their families to leave their homes. They are shooed away wherever they go. For those who live with their families, every day is a new challenge," he added.

Director of the Khyber-Pakhtunkhwa Human Rights Directorate Noor Zaman Khattak said the department will ensure the voice of transgender people is heard at all forums. "Engaging with these marginalised communities will increase inclusivity in our society."

Published in The Express Tribune, September 18th,  2015.