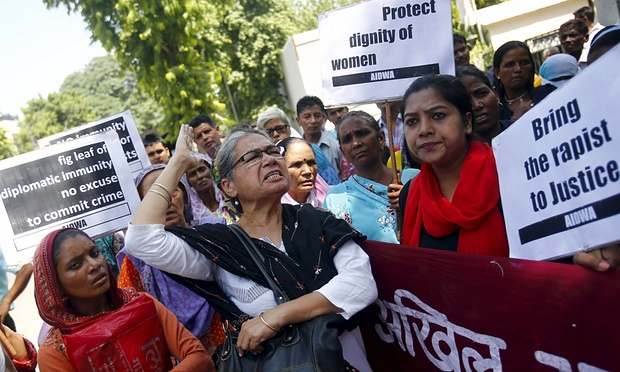 ---
NEW DELHI: Nepal on Thursday urged India to push for justice as it investigates a top Saudi diplomat accused of holding captive and raping two Nepalese maids, after he left the country under diplomatic immunity.

Majed Hassan Ashoor, the Saudi Embassy's First Secretary in New Delhi, is accused of beating and sexually abusing the two women, aged 30 and 50, while they were imprisoned in his apartment outside New Delhi.

Read: Indian police arrest six after teen alleges gang-rape

"Our request is that the investigation continues and justice is provided to the victims," Shivani Basnet, second secretary at Nepal's embassy in India, told television reporters.

India's foreign ministry said late Wednesday that Ashoor had left the country but did not specify when, adding that he was protected by the Vienna convention on diplomatic relations.

Nepal's ambassador to India, Deep Upadhyay, said the case was "a very very inhuman issue" and that he sought speedy justice for the alleged victims.

"If there has been a crime, the criminal should be punished," Updhyay told reporters in New Delhi.

Indian police began investigating Ashoor for "rape, sodomy and illegal confinement" after the women earlier this month alleged that they were tortured in his apartment in the upscale satellite city of Gurgaon.

Read: Five men held on rape charges in India

But the police's probe stalled after they were unable to question the envoy due to his diplomatic status, and officers turned to the Indian foreign ministry for help obtaining access to him.

Both alleged victims were hired as domestic workers and told police that the Saudi diplomat had kept them imprisoned them for months.

They were rescued on September 7 from the 10th and 12th floor of a high rise building after a third, recently-hired maid, raised the alarm.

The Saudi embassy has denied the claims, saying it "strongly stresses that these allegations are false and have not been proven".