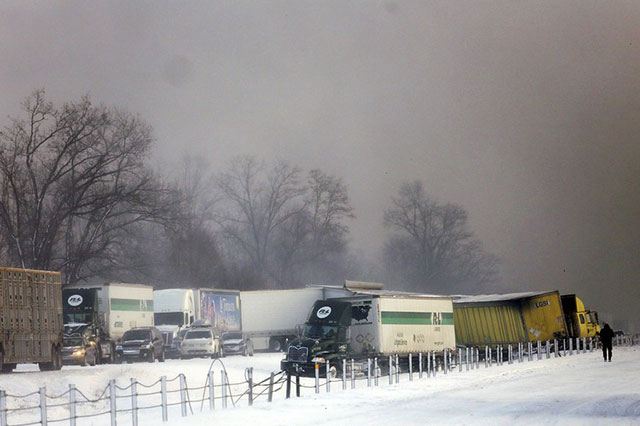 ---
A semi-trailer hauling thousands of pounds of hamburger crashed and caught fire on a western Michigan highway causing an extensive backup amid the smell of burning meat, police said.

Read: No sweat? Colombia turns to lie detectors to tackle government graft

The refrigerator truck carrying meat and other food products was traveling east on Interstate 94 near Jackson, Michigan, when it crossed the median, turned onto its side and burst into flames in the westbound lanes, police said.

The driver, a 69-year-old man from Pennsylvania, was treated for minor back injuries at a local hospital while a dog riding in the truck was unharmed, said John Johnston, deputy director of the Blackman/Leoni Department of Public Safety.

The driver told police "he was reaching for something behind his feet and was distracted," Johnston said, adding that there was no indication that drugs or alcohol were a factor in the crash.

Read: Two Utah teens livestream ice cream burglary, get scooped up

Crews were on the scene for nearly five hours cleaning up after the fire was extinguished, Johnson said, adding that a limited amount of diesel fuel was spilled.
COMMENTS
Comments are moderated and generally will be posted if they are on-topic and not abusive.
For more information, please see our Comments FAQ