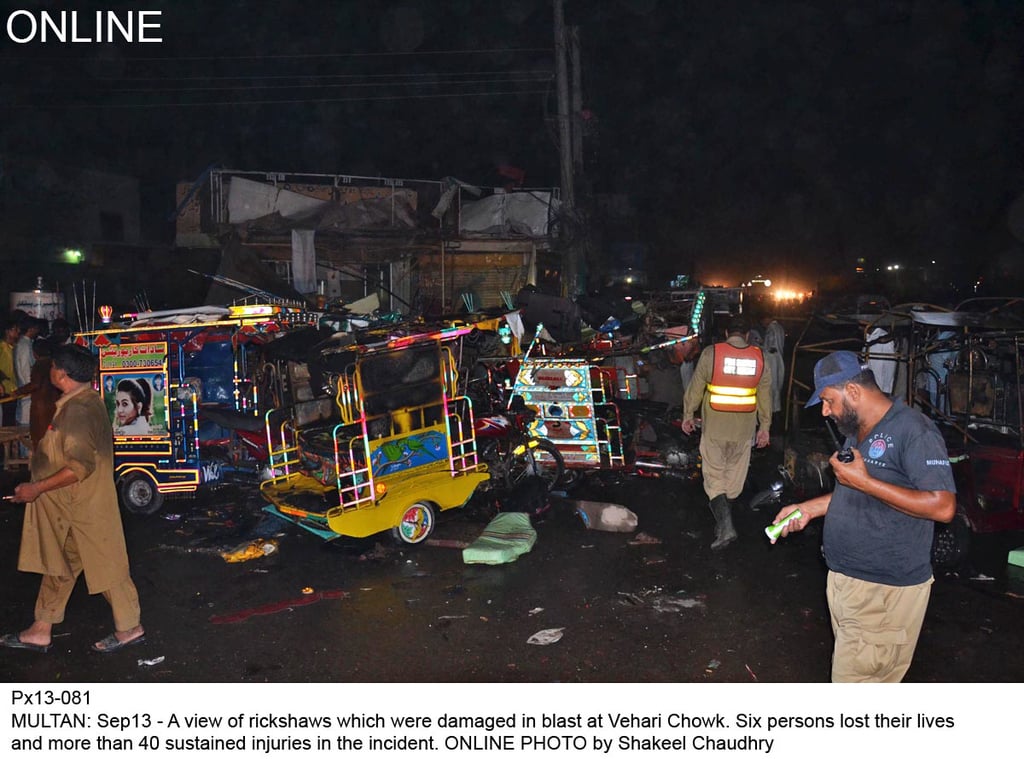 ---
MULTAN: At least eleven people were killed and 79 others injured in an explosion at Vihari Chowk, Multan on Sunday evening.

Initial details suggested a gas cylinder installed in a wagon exploded, resulting in casualties and injuries. However, CPO Azhar Ikram said the blast occurred when a motorcycle carrying explosives collided with a rickshaw.

Speaking to The Express Tribune, intelligence and BDS officials also confirmed that the blast occurred when explosives being moved for a terrorist activity exploded.

The blast, which could be heard in far off areas of Multan, was strong in intensity, thus damaging scores of shops and buses in the area. It also engulfed a number of vehicles in fire following the explosion.

The deceased and injured were shifted to the Nishtar hospital, and other nearby facilities. Officials at the Nishtar Hospital said five bodies and 63 injured were brought to their facility.

Being a city exit, Vehari Chowk is a hub of intercity transport services, including buses and other private vehicles. It is one of the busiest squares in Multan.

Meanwhile, DCO Multan, on behalf of Punjab chief minister has announced Rs0.5 million to the heirs of each of the deceased person as compensation.


CM expressed sympathies & condolences with the bereaved families & directed the administration to provide best treatment facilities.

— Punjab 2013-18 (@Punjab13to18) September 13, 2015