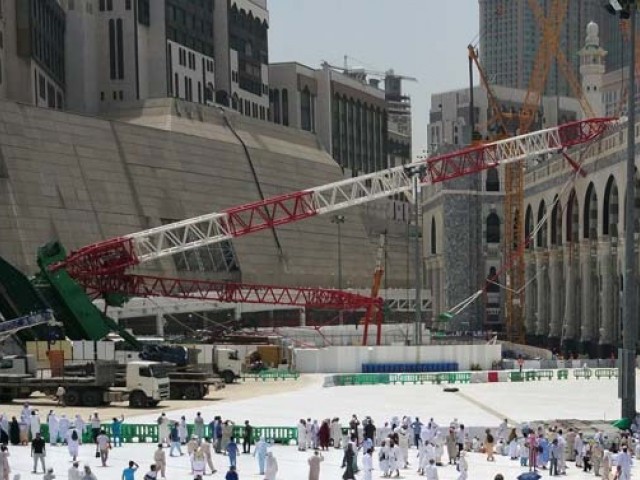 ---
ISLAMABAD: As the death toll from Friday's tragic crane crash at the Grand Mosque in Makkah soars past 100, Pakistan confirmed on Sunday 11 Pakistani pilgrims were among the dead.

Rejecting a Saudi-owned pan-Arab television channel's report claiming 15 Pakistanis were among the dead, Foreign Office spokesperson Qazi Khalullah said, "Six Pakistanis were among the dead in Grand Mosque crane tragedy."

However, during another visit to Mortuary in Makkah by the Pakistan Embassy team headed by the ambassador, five additional bodies were identified.

Accordingly, the total number of Pakistanis martyred in the incident is 11 now.

Read: Grand Mosque tragedy: 15 Pakistani pilgrims among the dead, claims Al Arabiya

A team of Pakistani Embassy personnel in Riyadh headed by the ambassador visited a mortuary in Makkah last night as well.

Earlier, Pakistan's Foreign Office and Ministry of Religious Affairs said no Pakistani pilgrim was killed while the two ministries also differed on the number of Pakistani nationals injured in the accident.

Saudi Arabia's King Salman vowed on Saturday to find out what caused a crane collapse that killed 107 people at Makkah's Grand Mosque ahead of the annual hajj pilgrimage.

Read: 51 Pakistani pilgrims injured in Makkah crane accident: FO

The hajj, a pillar of Islam which last year drew about two million faithful, will take place despite Friday's tragedy, Saudi authorities said as crowds returned to pray a day after the incident.

Hundreds of thousands of pilgrims had already arrived in Makkah when the massive red and white crane toppled over during a Friday thunderstorm.

"We will investigate all the reasons and afterwards declare the results to the citizens," Salman said after visiting the site, one of Islam's holiest.

Read: Saudi king vows to find cause of Grand Mosque crane tragedy

Parts of the Grand Mosque remained sealed off on Saturday around the wreckage of the crane, which also injured around 200 people when it crashed into a courtyard.