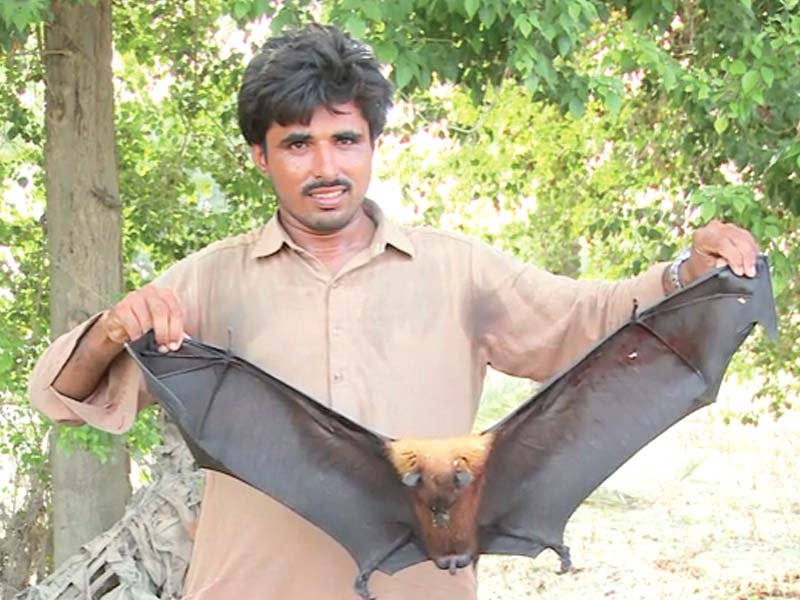 ---
SUKKUR:



The katcha areas of Piryalo are reluctantly playing hosts to a large number of megabats, who have arrived seemingly from nowhere and have occupied most of the trees that bear fruits.




These megabats have taken over most of the mango and date trees in the katcha areas of Piryalo, Garhi Mori and other areas. The residents, who are fairly at ease with microbats commonly found throughout the country, admitted that they are afraid of the megabats. And they have good reason to be — these large bats, also known as fruit bats, have a wing span of more than four feet.

Megabats, also called flying foxes, are being spotted in these areas for the last month. The nearly four-foot-wide animals are often seen clinging to the branches of fruit trees or crawling on the ground. Megabats are known to have an excellent sense of smell.

So far, the megabats have not harmed humans or livestock. In fact, local farmers have been brave enough to get a hold of some animals and pose with them. These animals have, however, eaten up all the fruits from the trees. Besides this, they have been eating microbats and smaller birds, such as sparrows.




A Piryalo-based journalist, Sanaullah, told The Express Tribune that birds that used to frequent the farms have started avoiding the trees ever since the megabats made their presence known. Sparrows, pigeons and parrots have left the area in a possible attempt to save their lives from the giant invaders. According to him, the microbats normally used to come out of hiding at night but the megabats are seen flying around at all times of the day, in search of food.

Confirming the presence of megabats in the nearby katcha areas, a villager from Garhi Mori, Rashid Mahar, told The Express Tribune that people are unable to sleep at night due to the noise these megabats make. He added that some of the fruit bats have been shot dead by the villagers but the gunshots did not seem to have instilled any fear in the animals.

Sukkur's deputy conservator of wildlife, Taj Mohammad Shaikh, said that these megabats are commonly known as fruit bats and their natural habitat is in the Mirpurkhas district. "After getting reports of their presence, I have sent my men to survey the area and try to catch one of the megabats to determine its species," he said.

When asked about the presence of the megabats in the area, World Wide Fund for Nature — Pakistan, Sukkur, senior project officer Imran said that he has not received such a report. However, he said, he will ask the officials to visit the area and investigate.

Published in The Express Tribune, September 13th, 2015.
COMMENTS (13)
Comments are moderated and generally will be posted if they are on-topic and not abusive.
For more information, please see our Comments FAQ