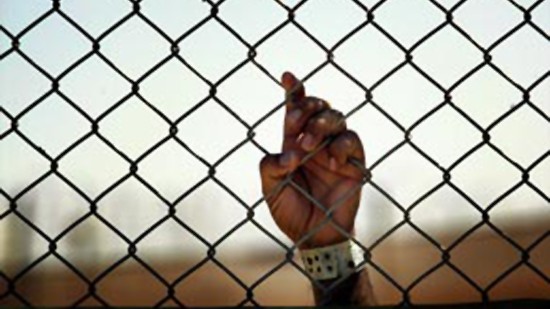 ---
BAGHDAD: Iraqi men were raped, electrocuted and beaten in a "secret prison" in Baghdad, Human Rights Watch said on Wednesday, in a harrowing report reminiscent of the abuses that took place at Abu Ghraib.

The watchdog interviewed 42 men who were recently transferred from a jail where they say the brutality took place to another detention facility in Baghdad, after details of misconduct were passed to the government.

Human Rights Watch described the prisoners' accounts of abuse as "credible and consistent," said there must be an independent and impartial investigation, and called for prosecutions at the highest level.

"The horror we found suggests torture was the norm in Muthanna," the watchdog's deputy Middle East director Joe Stork said, referring to the west Baghdad prison where the men were held until recently. "The government needs to prosecute all those responsible for this systematic brutality."

The men held at the prison were suspected Sunni Arab insurgents from the northern province of Nineveh, who had been arrested between September and December last year, according to the HRW report. The existence of the jail has caused alarm for Iraqi Prime Minister Nuri al-Maliki, whose officials said it was shut two weeks ago after the abuse allegations were first published in the Los Angeles Times.

According to HRW, prison guards hung blindfolded detainees upside down during interrogations, then kicked, whipped and beat them before placing a dirty plastic bag over suspects' heads to cut off their air supply. When prisoners passed out, they were awoken by electric shocks to their genitals or other parts of the body, the report said.

The detainees, who were interviewed at the Al-Rusafa detention facility in Baghdad on April 26, told HRW that interrogators and security officials sodomised some detainees with broomsticks and pistol barrels. Some young men said they had been forced to perform oral sex on interrogators and guards, according to the report, and said they were whipped with heavy cables, burned with acid and cigarettes, and had their teeth smashed.

"What happened at Muthanna is an example of the horrendous abuse Iraqi leaders say they want to leave behind," Stork said. "Everyone responsible, from the top down, needs to be held accountable." One of eight detainee accounts published by Human Rights Watch described how an imprisoned doctor instructed guards that an abused cellmate, who he suspected had internal bleeding, required urgent medical treatment."The guards took the tortured man out but returned him an hour later saying that he was fine. He died in the cell an hour later," it said.

The HRW report bore similarities with the abuse that took place at Abu Ghraib prison, west of Baghdad, in 2004, where a US military unit tortured Iraqi prisoners in a scandal which shocked the world. It was also uncomfortably reminiscent of the torture meted out at the same jail by henchmen of now executed dictator Saddam Hussein's regime, abuses that were used in part to justify the US-led invasion of 2003 that overthrew it.
COMMENTS (1)
Comments are moderated and generally will be posted if they are on-topic and not abusive.
For more information, please see our Comments FAQ