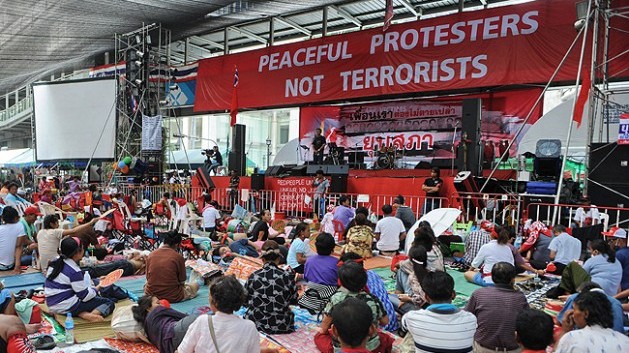 ---
Thai troops opened fire on 'Red Shirt' protesters on Wednesday during a tense confrontation on a highway in Bangkok's northern suburbs that left one soldier dead and 18 people injured.

The demonstrators hurled rocks at soldiers and police who had blocked their convoy on a major road heading out of the city centre, where they have been holding rallies for weeks in a bid to overthrow the government.

Troops responded by firing into the air and also directly at the Red Shirts as the standoff between the two sides spilled over from the protesters' fortified rally base in the capital's commercial heart.

It was the latest bout of bloodshed in the Thai capital, where 27 people have died and almost 1,000 have been injured this month in the country's worst political violence in almost two decades.

It was unclear whether troops were using live ammunition but the army has warned protesters they could face real bullets in any clashes. Officials said earlier that police and soldiers had fired warning shots.

One soldier died instantly from a gunshot wound to the head during the clashes, emergency services said. The Reds -- who want immediate elections to replace Prime Minister Abhisit Vejjajiva's government -- accused troops of using "war weapons" against the protesters, and said the soldier was a victim of friendly fire.

"He was shot by people on the same side as him," protest leader Jatuporn Prompan told AFP.

The clashes erupted in the north of the capital near Bangkok's number two airport Don Mueang International, which is about 25 kilometres (16 miles) from the main rally site and mostly handles charter and domestic flights.

About 2,000 protesters had earlier moved out of their sprawling rally site in pick-up trucks and on motorcycles to travel to the north of the capital, which is under a state of emergency.

"It looks like a war. They are fighting with unarmed people," another protest leader Nattawut Saikuar said from a stage at the site in Bangkok's commercial district that has become the focus of the weeks-long rallies.

"The government wants to lure us to go there so that they can come and disperse us here," added Nattawut, who warned earlier in the day that the Reds were "ready to fight to the death".

The Reds, many of whom come from Thailand's rural poor and urban working classes, have beefed up their base's defences with barricades made from truck tyres and bamboo stakes as they brace for a crackdown by security forces.

Raising the pressure on the embattled premier, the Constitutional Court agreed to hear a recommendation by an election body to dissolve the ruling party for alleged misuse of grant money, a court official said.

He declined to give a timeframe for the case but said Abhisit's Democrats would be asked to provide a written defence. Abhisit said in an interview with the BBC on Tuesday he would step down if he believed he were an obstacle to stability.

He said the issues were "not a purely political problem. There are security problems involved, there are terrorist problems involved", adding that there was no imminent likelihood of martial law being declared.

Abhisit, regarded as elitist and undemocratic by his opponents, has rejected an offer by the Reds to disperse if elections are held in three months' time.

Army spokesman Sunsern Kaewkumnerd said on Tuesday that security forces were ready and waiting "for the right time" to retake the Reds' rally area, which has paralysed traffic and caused many major hotels and stores to close.

Early on Wednesday morning two grenade attacks hit a Bangkok bank and military checkpoint -- the latest in a series of blasts to hit politically significant sites -- but nobody was wounded, police said.

Britain on Tuesday extended a warning against visiting Thailand, urging its nationals to avoid anything but essential travel to all of the tourist destination due to "violent incidents of an unpredictable nature".