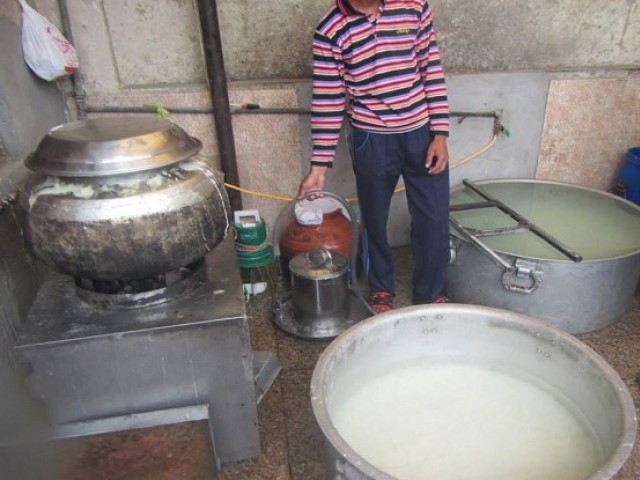 ---
ISLAMABAD:



Ayesha Mumtaz – the iron lady of the Punjab Food Authority (PFA) as dubbed by the national media – has brought with her to the federal capital a phenomenon currently making waves in the provincial capital, Lahore, which is crackdowns, fines, arrests and closures of outlets serving unhygienic food to the public.




In Islamabad, Wednesday was a day of dramatic developments as teams of the city administration one after another raided, sealed and fined some 51 famous eateries across the city, besides arresting 37 food adulterators and sealing 17 outlets.

Though, Mumtaz did not personally participate in the operation, around seven food inspection teams headed by different assistant commissioners of the ICT Administration motivated by her, completed the task "without fear or favour", said Abdus Sattar Esani, additional deputy commissioner Islamabad, who was overall in charge of the operation.

From high-end cafés and restaurants to roadside hotels; food processing factories to twin cities' most popular Savour Foods and Chaaye Khana, the food businesses faced penalties ranging from serving mere notices to arresting owners.

Read: 'Eateries selling poor quality food beware'

Inspection teams collectively imposed fines amounting to Rs144,000 during surprise raids across the capital.

Seventeen First Information Reports have been lodged with respective police stations, while 37 people including owners of some food businesses were arrested during the first day of campaign titled "Anti-Adulteration Campaign in the ICT".

Restaurants, cafés, hotels and bakeries which were fined or sealed include Chaaye Khana, Habibi Restaurant, KFC, Jamil Sweets, Orient at F-10, Roasters, House of Bombay, Savour Foods, Rahat Bakers, Best Western Hotel, Hot and Spicy at Bahria Town, Café Oxygen, Gujranwala Restaurant F-10, Karachi Nihari F-8, Food Garage F-8, Sheesha and Smoke Villa Bahria Town, Ashraf Bakery, Zeeshan Bakery, and Chaudhary Bakery among others.

Three food processing factories were also sealed.

"FIRs are registered under Pure Food Act, and Section 269 of the Pakistan Penal Code," said Islamabad Deputy Commissioner Capt (retired) Mushtaq Ahmed.

He said that operation against food adulterators would continue in the coming days and it would be a regular feature in future.

Mushtaq said that violations which were noticed include washroom in production area, dirty kitchen, dirty and unmanaged freezers, leftover food, food left in open, spider webs, dirty ingredient boxes, poor personal hygiene of staff, unvaccinated staffers, and substandard ingredients in recipes among others.

Read: Cleanliness manual issued for businesses

Home-based food industry in rural part of Islamabad also came under the scanner. An inspection team headed by Assistant Commissioner (Rural) Nisha Ishtiaque sealed four such factories located in Shams Colony. In rural Islamabad four roadside hotels, a pizza outlet, and eight food stores were sealed, which were running under extremely unhygienic conditions.

A team of Punjab Food Authority (PFA) including its director-general Asad Islam Mahni and director (operations) Ayesha Mumtaz are currently present in Islamabad on a special invite of the federal government.

"Twin cities administration should follow the way the PFA is cracking down on outlets selling unhygienic food in Lahore and others districts of the Punjab," Interior Minister Chaudhry Nisar Ali Khan said on Tuesday, while chairing a meeting at the ministry.

Correction: An earlier version of this story erroneously carried a picture belonging to an eatery that is not mentioned in the article. The error is regretted. EDITOR. 

Published in The Express Tribune, September 10th, 2015.