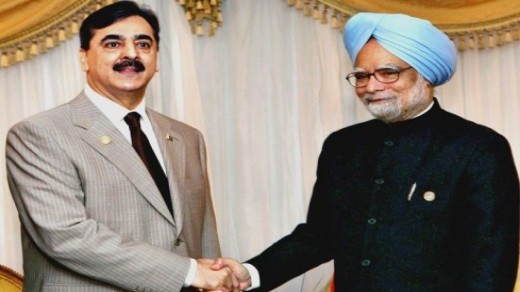 ---
THIMPHU: Prime Minister Yousuf Raza Gilani met his Indian counterpart Manmohan Singh on the sidelines of ongoing SAARC summit in Bhutan on Wednesday. The informal meeting precedes a more formal meeting that is set between the two prime ministers on Thursday.

Ahead of the much anticipated moot, Foreign Office spokesperson Abdul Basit has said the time has come for India to make up its mind about the kind of engagement it wants with Pakistan.

Speaking to reporters in Thimphu on Tuesday, Pakistani Foreign Minister Shah Mahmood Qureshi said any meeting should address the need to resume a full-fledged peace dialogue.

"It's time for India to make up its mind whether it wants to engage or not. Engagement is the only way forward," he said.

"We need to go beyond a handshake," Qureshi said, referring to Singh and Gilani's cursory exchange of pleasantries at a summit on nuclear security in Washington earlier this month.

The two prime ministers were in the Bhutanese capital to attend the 16th summit of the eight-nation South Asian Association for Regional Cooperation (SAARC), which groups Afghanistan, Bangladesh, Bhutan, India, the Maldives, Nepal, Pakistan and Sri Lanka.

India broke off all dialogue with Pakistan after the 2008 Mumbai attacks, in which at least 166 people died and which New Delhi blamed on Pakistan-based militants.

Contact was tentatively resumed at a meeting of foreign ministry officials in Delhi in February. But India insisted that resuming a full dialogue depended on Pakistan's bringing to justice those responsible for the Mumbai carnage. Qureshi said it was time for India to move forward and stop demonising Pakistan.

"We have to accept terrorism is a common challenge. It's not us and you, it's a collective effort," he said.

Qureshi attended a meeting of SAARC foreign ministers Tuesday along with his Indian counterpart S M Krishna, who urged member states to "rally against the forces of terrorism".

"The South Asian region is particularly afflicted by this menace," Krishna said.

The spying scandal that erupted on Tuesday involves a 53-year-old junior diplomat working in the information service of the Indian embassy in Islamabad. The woman, Madhuri Gupta, a second secretary in the embassy, was arrested for breaching the official secrets act, which carries a minimum 10-year jail term, a senior police source told AFP.

The source said she had been under surveillance for six months. The Press Trust of India said she had worked in the mission for nearly three years and is alleged to have passed on information from the Islamabad head of India's external intelligence service.
COMMENTS (1)
Comments are moderated and generally will be posted if they are on-topic and not abusive.
For more information, please see our Comments FAQ