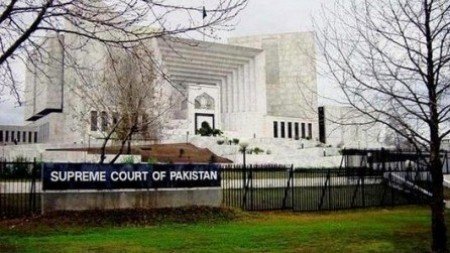 ---
ISLAMABAD: The Supreme Court (SC) formally accepted petitions against the 18th amendment for hearing on Wednesday. Chief Justice Iftikhar Muhammad Chaudhry has been requested to constitute a larger bench to hear the petitions.

In the court proceedings, the 5 member bench of the SC issued notices to the attorney general and the federal government, adjourning the hearing for 2 weeks.

Miscellaneous petitions have been filed against the 18th amendment by Supreme Court Bar Association, Watan Party, Leader of PML-Z Ejazul Haq and others.

Particular objections have been raised against Clause 175-A which deals with the appointment of judges to the superior courts.

The petitioners are of the view that the 18th amendment act changes some very basic concepts of the constitution which it is not empowered to do.

The bill was passed into law last week with the endorsement of all the major political parties of the country.

The bench was headed by Justice Nasir-ul-Mulk and comprises of Justice Rehman Hussain Jafferi, Justice Tariq Pervez Khan, Justice Raja Fayaz and Justice Jawad S. Khwaja.
COMMENTS
Comments are moderated and generally will be posted if they are on-topic and not abusive.
For more information, please see our Comments FAQ