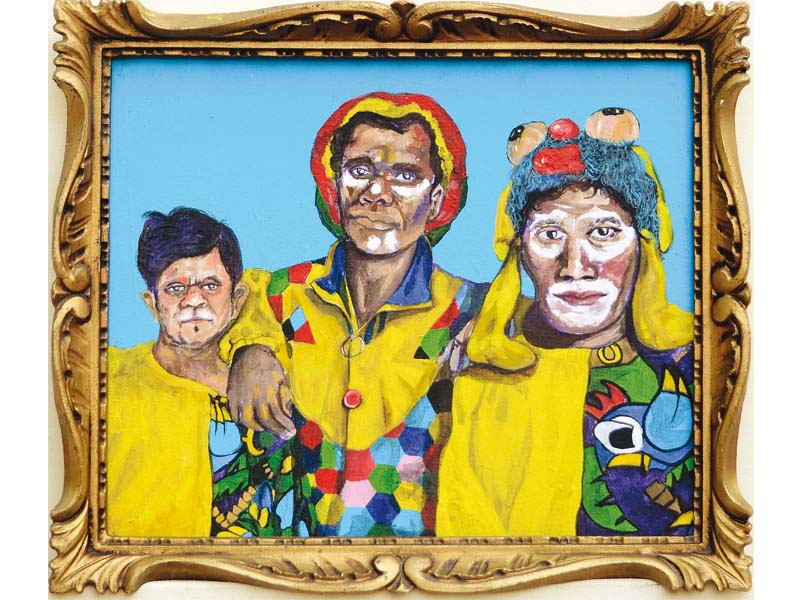 ---
Surprise and delight were two reactions I had when I visited Amra Khan's recent solo show at Sanat Gallery in Karachi. This was due to the large scale and detail of the works, as well as the boldness, yet relevance of their ubiquitous narrative.

The title Ecce Homo — Chapter 1 is Latin for 'Behold the Man'. Artist Amra Khan's interpretation of the title is radically different to historical references to this phrase, most pertinently uttered by Roman Prefect Pontius Pilate in the Gospel of John 19:5. In a world torn between the approval of strict heterosexuality and its antithesis, Khan aims to bring to light, question and analyse this discourse through the use of relevant imagery and its distortion and subversion. The crux, perhaps, of this exhibition is: What is seemingly normal? What is 'normal'? What is acceptable?




Adam and Adeel and When They Met (2015) are two incredibly large paintings (both close to 8.5 x 7 ft.), depicting two men in what seems to be a garden of earthly delights. In acrylics on canvas, against a backdrop of greenery, vegetation and beautiful flora (sometimes slightly phallic), the two men display togetherness and affection. Mullah Krishna's Devotion on the Outside depicts a man with blue skin in a topi, clad in shorts, chappals and a t-shirt, and deep in thought. And My Messiah displays a bald, fat, stern-looking brown man, clad in a floral shalwar.

What are some of the commonalities between these three paintings? Enveloped by yellow disks around their heads representing 'halos', the men seem to be oblivious to the presence of a leg-baring fairy who looks on. Thus not only are the men given some sort of (distorted and altered) religious affiliation, their 'manliness' is given a tone of sacredness. The fairy, dichotomous in attire, seems to be their consciousness that veers between conservative and liberal.

Through these paintings, Khan questions what it means to be a man, and the various roles it entails. Perhaps she best explains her work herself, as she feels it 'revolves around having two poles, two different ideas, temperaments and personalities living in the same body. The conflict is between the mind and the soul, and the battle ground is your body, who you are and who you desire to be, till you transcend to the higher level of greatness… and question the baseness of the flesh, the abject state of gender, the bipolarity of power, your own gender and the one you wished to be born in, until you can answer the very question "Am I a man?"'




Khan's work most often addresses grey areas in sexuality, rediscovers queerness and, as critic Shahana Rajani states, is 'a critique of metanarratives of desire'. This is particularly seen in Khan's Jinnah series where he is represented in various avatars. Khan feels, "Our idea of Jinnah exists in some other dimension altogether. We as a nation have pretty much destroyed whatever this man stood for and made a mockery of his very ideology." In other paintings such as The Brown Girl and Rosie, a man explores his feminine instincts in isolation, bringing to light the plight of cross-dressers, transsexuals, and, metaphorically, those who don't 'fit in'.

Contrastingly, the artist's portrait series of seemingly 'normal' people such as Boy at the tea stall and The Three Graces seem to be just portraits of ordinary men. While the former is a portrait of a boy looking at the viewer, the latter depicts Pakistani men dressed as clowns in ridiculously colourful costumes.

Khan herself elaborated on this dichotomy, saying, "They are entirely different and opposing characters … yet they do come from the same dialogue of being a man… but they too have been sidelined, as just "ordinary men", with nothing special about them. We only identify with what their professions are but not what they are inside and how they feel, their needs, their insecurities, their passions, their fears etc."




Indeed, Khan holds the artistic ability to look layers beneath the surface. To her, this was Chapter 1, and she now will be waiting for Chapter 2.

Shanzay Subzwari is an artist and art writer based in Karachi.

She tweets @ShanzaySubzwari

Published in The Express Tribune, Sunday Magazine, August 23rd, 2015.
COMMENTS
Comments are moderated and generally will be posted if they are on-topic and not abusive.
For more information, please see our Comments FAQ