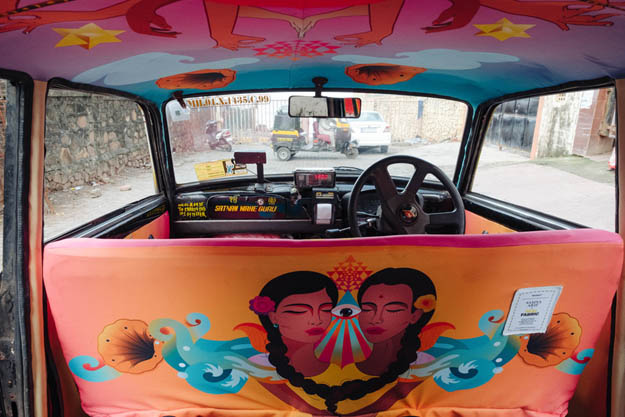 ---
KARACHI: Two nations, two cultures and two identities; dig deeper, however, and Pakistan and India will appear as one -- just separated by a border. This is what Taxi Fabric's latest project encapsulates.

Taxi Fabric, an initiative by Sanket Alvani aimed at transforming the interior of Mumbai's popular black and yellow cabs, brought together a 29-year-old designer from Pakistan and an elderly Sikh driver from Mumbai this Independence Day.

On his hunt for a Pakistani designer for the Independence Day project, Alvani selected Samya Arif from a pool of two or three designers to give a makeover to Satmant Singh's taxi in Mumbai.




"The idea behind the designs for Taxi Fabric was to show how intricately and strongly Pakistanis and Indians are connected, not just through our history of independence but through similarities between our people, cultures, traditions, superstitions, ideals and so on, making us essentially the same kind of people," Arif told The Express Tribune.

The elements incorporated in Samya's design focus on the commonalities between Pakistanis and Indians as well as their unique characteristics, such as the depiction of music through guitar necks and gramophone horns.

"For the designs, I also picked up on hand gestures and geometric patterns common or unique to both cultures and religions such as a dua or namaste and amalgamated them into a visual collage around a sea scape, since the water and sea are connecting points for the two countries," she added.




Elaborating on her design, the Indus Valley School of Art & Architecture graduate said, "Additionally, I added details to convey the mystic and spiritual nature of both nations, while playing with symmetrical compositions to reciprocate our likeness. The beach and a water park in Mumbai were also places that held a soft spot for the taxi driver, Satmant Singh, something I predominantly included in my designs to give him some sort of respite in Mumbai's endless traffic jams."




Samya who designed the taxi and worked on the project sitting in Karachi is yet to see her design in person. "I hope I get to visit India soon and sit in my designed taxi," she said.

Overwhelmed by the response to her design and appreciation from Indians, the 29-year-old said, "The project itself has been a great learning experience, and I've gained some precious friends through it."

Samya further believes that it's time for people to rise above bitter behavior towards each other and recognise each other's importance in this world.




"We have been conditioned falsely by our history books for too long, and I'm glad that artists as people are able to take a turn for the better and come together in celebrating art and spreading empathy," she said.

However, Samya regretted, "The current ongoing political uncertainty between the two countries does make it hard for collaborating artists to travel to each other's states, hold or be part of festivals, concerts and exhibitions together. Which is really quite disheartening, considering the amazing collaborations and art projects upcoming Pakistani artists have been a part of and should be a part of, and how much India could help in terms of exposure and providing us with a corresponding, collaborating partner."




If you do ever get the chance to ride in Singh's taxi, don't forget to notice the words stitched behind his seat reading, "India and Pakistan. Separated at birth, siblings who grew up and forgot how much they love each other."
COMMENTS (2)
Comments are moderated and generally will be posted if they are on-topic and not abusive.
For more information, please see our Comments FAQ