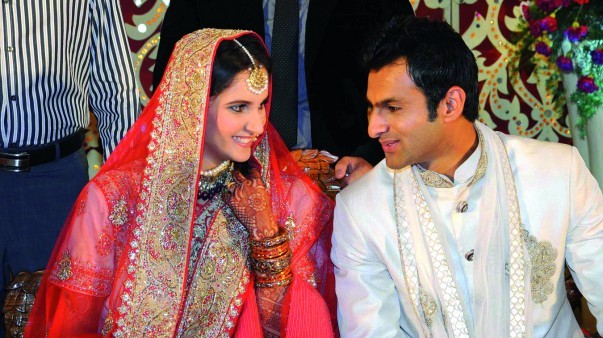 ---
KARACHI: Since Shoaib Malik and Sania Mirza announced their engagement, they have been caught up with lawsuits, visa issues and security arrangements.

The couple recently gave an exclusive interview to Express News where they shared their thoughts about being in Pakistan, their wedding and much more.

THE PEOPLE

Malik: The way people are showing their love and celebrating has made us very happy. The only issue that I have is that I have to play the role of a bodyguard instead of a husband. I do not feel good about this and everyone should realise that this is a normal marriage. A lot of hype has been created about our marriage but we need privacy too.

Mirza: I am very happy and very grateful to all those people who have showered so much love upon me and welcomed me in such a wonderful way and have made me feel as one of their own. I am very happy and overwhelmed by such a welcome. Unfortunately I have been unable to express my happiness because I have not really stepped out of my room. But I am truly very happy.

THE PETITIONS

Malik also dismissed the accusation levelled against him regarding selling of wedding cards and of distributing specific rights.

Malik: The people who are saying such things about my marriage cards should be ashamed of themselves and should seek mental treatment. They are just spreading rumours. As far as the TV rights are concerned, yes we did have offers but we never considered giving exclusive rights to anyone.

PLAYING FOR INDIA

Malik: Sania can play for as long as she likes and she will have the complete support of me and my family. I also want to add that a lot of people are asking 'will Sania play from now on for Pakistan or India?'. She has always played for India and will continue playing for India.

SANIA'S OTHER SKILLS

Mirza: I do not know how to cook! Its difficult for me to make tea. I told Shoaib about this before marriage - so he knows! Now it does not matter.

LIFE AFTER MARRIAGE

The couple said they were happy to be finally married and requested everyone to pray for them

Malik: We are married and are very happy. Our families are happy. We request people to pray that we stay forever happy, together and have better relations with media in future!

SECURITY UPDATE

The petition which was filed after Shoaib Malik and his wife Indian tennis star Sania Mirza hosted a reception in Sialkot on April 26, has been dismissed as the petitioner who accused Malik of using excessive power in spite of energy crisis in the country, failed to substantiate his claim through evidence.

For more on the Lahore Valima click here.