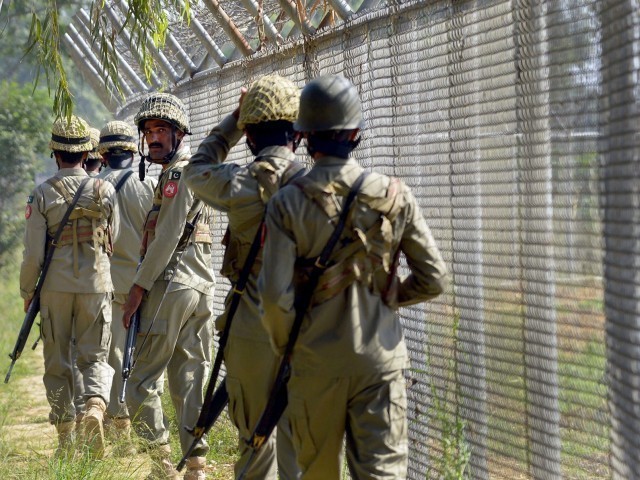 ---
Unprovoked firing by Indian security forces from across the Line of Control (LoC) on Saturday left a man dead in Nakial Sector, Express News reported.

According to details, heavy firing and shelling from Indian side of the LoC in Kanthi Gala village, Nakial sector in Kotli, left Mohammad Shafi dead and three others injured, including Imran, Shahpal and Mistri Rasheed.

Inter Services Public Relations (ISPR) said that the Pakistan Army responded to the indiscriminate firing and shelling by the Indian forces in a befitting manner.

"There is shelling from across the border in the whole Nakial sector since morning. An elderly man, Mohammed Shafi, has been killed and three others have been wounded in the shelling in Dabsi Narr village," Adnan Khurshid, a senior administration official in Kotli, told AFP.

One of the injured was in a serious condition after  sustaining a head injury, he added.

The incident and casualties were confirmed by senior police officer Chaudhry Muneer.

Read: Unprovoked Indian firing: BSF violates ceasefire at LoC again

This is the second casualty in as many days due to Indian firing, which has continued even as the two neighbouring countries celebrated their respective independence days.


A civilian woman was killed in cross-border shelling by the Indian army in Kashmir, in violation of ceasefire agreement, officials said.


Three other civilians — the woman's husband and daughter, and a third female relative — were wounded in the shelling, local officials said.

The incident took place on Friday in Nezapir sector, located in Forward Kahuta district on the Line of Control (LoC).

"Indian army shelling has continued since morning. One woman was killed when a shell hit her house," Sardar Tahir Mehmood, deputy commissioner in the district in Kashmir, told AFP.

Earlier on August 11, a 28-year-old woman who was critically injured during unprovoked firing on the civilian population in Jandrot sector along the LoC, before succumbed to injuries.

According to ISPR, Fareeda received bullet wounds in the stomach when Indian forces had opened unprovoked fire from across the LoC.

India has been continuously violating the ceasefire agreement on the LoC and the Sialkot Working Boundary that divides the disputed regions.