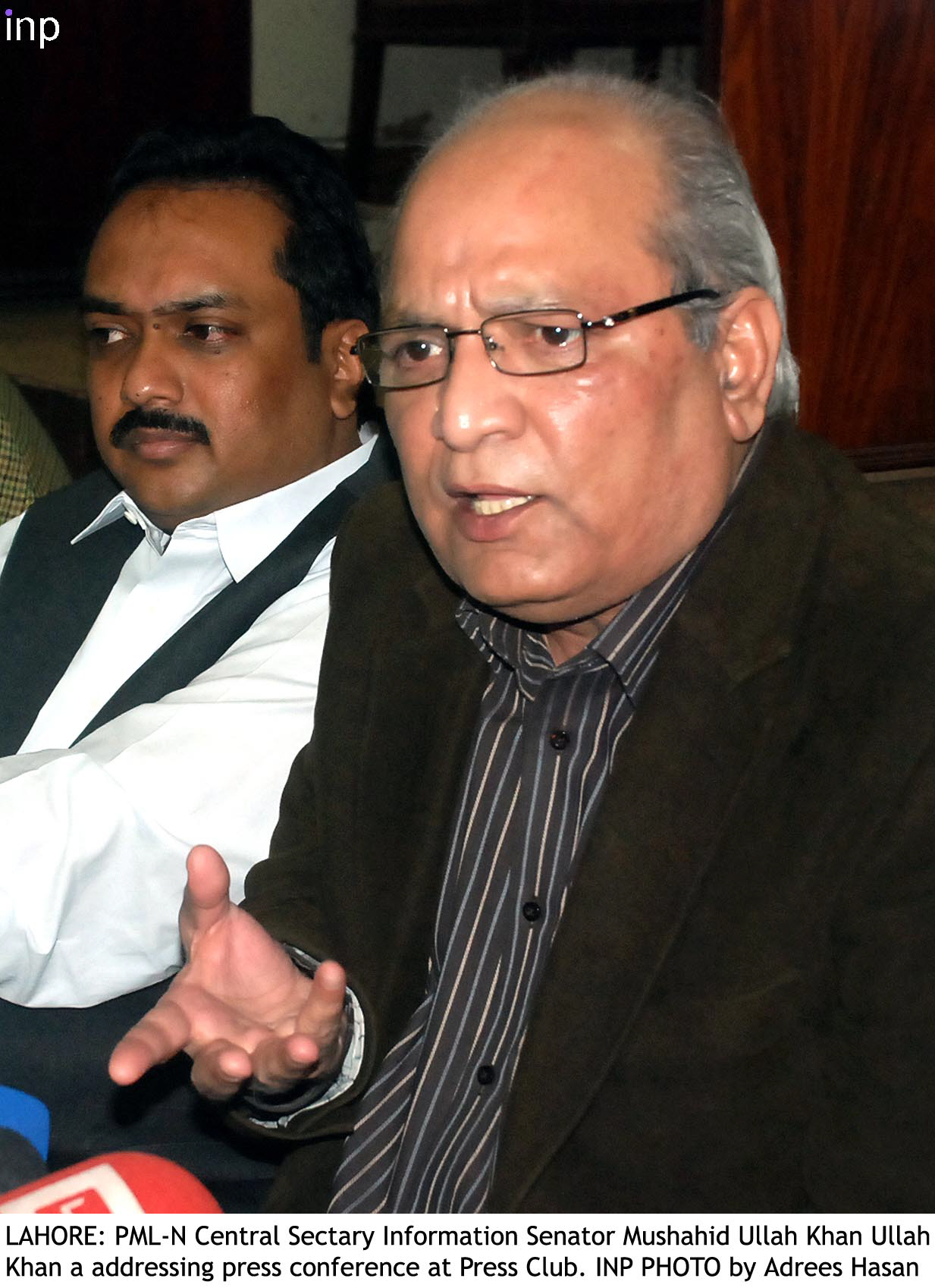 ---
ISLAMABAD: Senator and senior minister of the Pakistan Muslim League-Nawaz Musahidullah Khan has tendered his resignation over a comment he made claiming the Inter-Services Intelligence (ISI) plotted to topple the civil and military leadership during the PTI sit-ins last year.

In an interview to BBC Urdu at the first anniversary of the sit-ins, Federal Minister for Climate Change Mushahidullah Khan said the conspiracy was foiled after a civilian intelligence agency, Intelligence Bureau (IB), intercepted a call of then ISI chief Lieutenant General Zaheerul Islam who was allegedly giving instruction to create chaos during the sit-ins and take control of the PM House.

In a statement released on Saturday, Information Minister Pervez Rashid said Khan, who is currently in the Maldives, has sent his resignation to the prime minister.

Rashid added that the minister, on his return, will furnish his resignation and provide an explanation in person to the premier.

Read: Troubling claims: ISI ex-chief plotted to topple govt, says Mushahid

On Friday, Prime Minister Nawaz Sharif asked Mushahidullah to explain the basis of his remarks.

Later during the day, the army's spokesperson General Asim Bajwa also termed any reports about a "tape" as baseless rumours.

"The story about any tape recording as being discussed in media is totally baseless, unfounded and farthest from truth," Bajwa said, adding, "Such rumours are irresponsible and unprofessional."


The story about any tape recording as being discussed in media is totally baseless,unfounded &farthest from truth-1/2

— Gen(R) Asim Saleem Bajwa (@AsimBajwaISPR) August 14, 2015
....Such rumours are irresponsible, and unprofessional-2/2

— Gen(R) Asim Saleem Bajwa (@AsimBajwaISPR) August 14, 2015


Read: Nawaz asks Mushahidullah to explain claims made in BBC interview

In the interview, the senior minister disclosed that Islam had hatched a conspiracy to oust both Chief of Army Staff General Raheel Sharif and the prime minister.

The minister had claimed that the recording had been presented to the premier, who had subsequently passed it on to the army chief.

PTI demands executive action against Mushahidullah controversy

Earlier in the day, PTI leader Asad Umar demanded an inquiry into the allegations and that the prime minister should take action against them. However, if the allegations are proven false, then Mushahidullah "should be sacked from his job and thrown out of the party."


If the DG ISI was actually involved , he and his accomplices...civil or military....should be tried for treason

— Asad Umar (@Asad_Umar) August 15, 2015


Urging the premier to stop playing the "good cop, bad cop", Umar demanded that the prime minister should take a clear stand and if he thinks there is any truth to the claims being made, then he should take action against those involved, or take action against his minister if he thinks the minister is lying.


The prime minister has to take a clear stand. If he agrees with his ministers he should order action against those who conspired

— Asad Umar (@Asad_Umar) August 15, 2015
and if the PM thinks his ministers are lying then he has to order action against them. He cannot continue this good cop bad cop drama

— Asad Umar (@Asad_Umar) August 15, 2015
COMMENTS (18)
Comments are moderated and generally will be posted if they are on-topic and not abusive.
For more information, please see our Comments FAQ