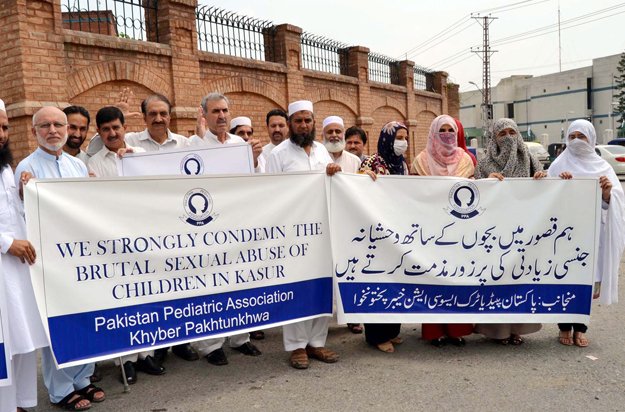 ---
PESHAWAR: Members of the Pakistan Paediatric Association (PPA) Khyber-Pakhtunkhwa chapter took to the streets on Thursday to condemn the Kasur child pornography  scandal, saying the barbaric incident has shocked the entire nation.

A large number of protesters gathered outside Peshawar Press Club. They held banners and shouted slogans against the perpetrators. Members of the association urged the Punjab government to investigate the matter.

Question marks

"It is disturbing to note that so many children were subjected to sexual abuse for so many years," a protester told The Express Tribune. "The incident paints a grim picture of how law-enforcement agencies and other state institutions have failed to curb child abuse. Furthermore, it also raises question marks over how equipped we are to deal with various forms of violence against children."




Another protester said, "Sexual abuse leaves scars which the passing of time cannot easily heal. We need to take the culprits to task."

Rehabilitation services

During the protest, association members pressed the Punjab and federal governments to award exemplary punishment to the perpetrators.

"Victims and their families must be provided the required legal and moral support," said PPA K-P chapter President Professor Amin Jan Gandapur. "Children who have been through this ordeal should also be provided counselling services and therapy." Gandapur added the association is willing to help design and implement the required services in collaboration with Child Protection and Welfare Bureau of Punjab.

"The federal and provincial governments must implement the National Plan against Child Sexual Abuse and Exploitation," he said. "I urge all provincial governments, especially the one in K-P, to introduce a comprehensive system to protect children so they can reach their full potential without being abused, neglected and exploited."

Published in The Express Tribune, August 14th, 2015.