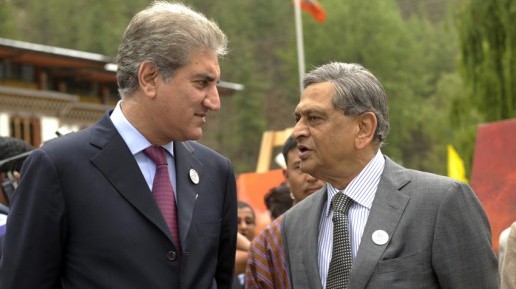 ---
THIMPHU: Amid high expectations of a meeting between Indian Prime Minister Manmohan Singh and his Pakistani counterpart Yousaf Raza Gilani, Pakistan Foreign Minister Shah Mahmood Qureshi on Tuesday said that India should move on from 26/11 in order to forge a better relationship with Pakistan.


Foreign Minister Shah Mahmood Qureshi, who saw the South Asian Association for Regional Cooperation (SAARC) exhibition alongside Indian External Affairs Minister S M Krishna, suggested that his country wanted to have "beautiful" relations with India.

"The climate here is beautiful. Don't you want relations between India and Pakistan to be beautiful as well," Qureshi told reporters when asked whether cool climes of Thimphu would have an impact on Indo-Pak ties.

About possibility of talks between Prime Ministers of two countries, he said, "We can talk about talks. One always lives on hope". He added that, "talking and engaging is the most sensible way forward."

Qureshi and Krishna were together at the exhibition for few moments after the inaugural session of SAARC Council of Ministers' meeting.

The eight-nation SAARC Summit will be held in Thimphu on April 28-29. Krishna, who was asked separately about the possibility of a meeting between two Prime Ministers on sidelines of SAARC Summit, was guarded, saying it would be decided after Singh arrives here tomorrow.

"Let the prime minister arrive here. We will see how scheduling of the bilateral meetings will be arranged. We have to await the arrival," he said.

There are high expectations about a meeting between Singh and Gilani on sidelines of Summit here which begins tomorrow. Indian officials suggest that there could be a meeting but it would not be a substantive one.

India has been maintaining that it was willing to remain engaged with Pakistan but the latter would have to address "core" concern of cross-border terrorism before a substantive dialogue could be resumed.

Pakistan, on other side, wants resumption of the composite dialogue which was stalled by India after Mumbai attacks in 2008.

To a question on Pakistan's reply to Indian dossiers of evidence on 26/11, Krishna said a response would be formulated after he goes back to Delhi.

On meeting of SAARC council of ministers, he said "it was smooth". He said it had been smoothened by meeting of SAARC foreign secretaries.
COMMENTS (1)
Comments are moderated and generally will be posted if they are on-topic and not abusive.
For more information, please see our Comments FAQ