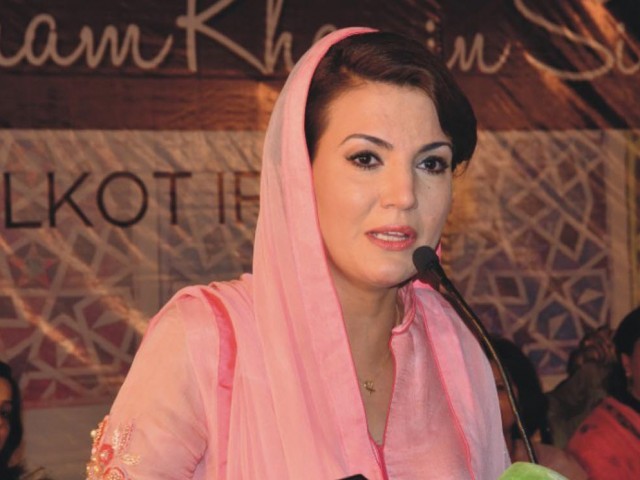 ---
HARIPUR:



Reham Khan has officially grabbed the driving seat for Pakistan Tehreek-e-Insaf in NA-19, Haripur and will be actively campaigning for the party during the by-polls.




Earlier, PTI Chairman Imran Khan and his wife Reham Khan had denied rumours over the latter's plans to enter the political arena. However, recent developments have contradicted these claims.

Reham has delivered several speeches in Panian, Shah Maqsood, Naseem Town, Haripur Bazaar and Kaag areas between Friday and Sunday. According to insiders, her weekend visit to the constituency has announced her entry into the political sphere.

Read: Reham Khan announces launch of PTI's NA-19 by-poll campaign

Reham has arrived in her maternal hometown to drum up support for PTI candidate Dr Raja Amir Zaman. MPA Shaukat Yousafzai, MPA Maleeha Khan, Yusuf Ayub, Ali Asghar Khan and other leaders accompanied her.

Reham addressed the political meetings in Hindko, Pashto and Urdu and urged locals to vote for Zaman.

"Gift your Bhabhi [sister-in-law] the NA-19 seat and in return the Khyber-Pakhtunkhwa government will give you prosperity," she said at a meeting on Sunday. Reham said the party is committed to eradicating corruption from the province and is addressing the concerns of the people.




"Under Zaman the constituency will witness a new era of development and the people will get facilities at their doorstep," she added.

Dynastic politics?

Although she does not hold public office as yet, Reham's debut into the political arena is likely to become the talk of the town.

Addressing the meeting, Reham said she will never let Imran down. "PTI has Khan, jawan [youth] and Bhabhi," she said.

Handing the Pakistan Muslim League-Nawaz its share of criticism, she said Pakistan gets electricity after sacrifices of the people of Haripur. "Avenge PML-N's injustices by casting ballots in favour of PTI on August 16," she said. She added all of Imran's assets and interests are in Pakistan. "The PTI also accepted the Judicial Commission's report and our morale is still high."

Retaliatory fire

However, Reham's opponents have also expedited campaign efforts. Adviser to Prime Minister Dr Asif Kirmani has pressed the Election Commission of Pakistan to conduct by-poll under the supervision of Pakistan Rangers.

Speaking at PML-N candidate Babar Nawaz Khan's campaign meeting in Neelor village, Kirmani said the local government poll irregularities have legitimised the demand for stringent security measures.

"ECP must have learnt a lesson after arranging LG polls with PTI in power," he said. "It should now deploy paramilitary forces at all polling stations of Haripur."

Responding to Reham's request to the people to give PTI the seat as a gift, he said gifts are always given and not asked for.

Read: Political debut? PTI may field Reham Khan in NA-19 re-polls

"PML-N has already gifted the Hazara Motorway, China Pakistan Economic Corridor, Metro Bus, Danish schools to the people," he added.

The adviser maintained PTI's popularity has plummeted over the last two years as it failed to fulfil the promises it made before taking charge. "Even with them in power, people are deprived of their rights," he said. Kirmani added Hazara has always remained a stronghold of PML-N and so shall it be.

Speaking at a similar meeting in Beer village, MNA Captain (retd) Mohammad Safdar said PML-N believes in bringing competent youth to the fore and has therefore given Babar the party ticket.

Published in The Express Tribune, August 10th, 2015. 
COMMENTS (33)
Comments are moderated and generally will be posted if they are on-topic and not abusive.
For more information, please see our Comments FAQ