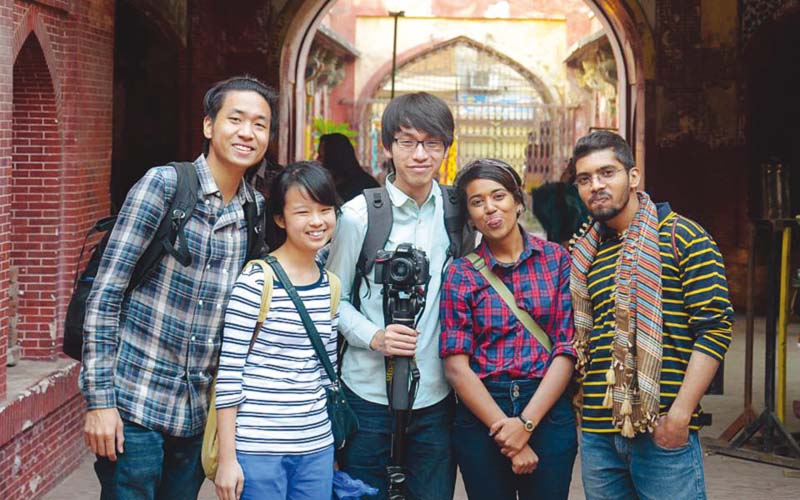 ---
LAHORE:

"I believe there are two sides to every story, and I hope to show a side of Pakistan that's usually not portrayed in mainstream media," said Andre He, one of the four students who travelled from Singapore to Pakistan from between last November to January this year. He visited the country to film a documentary on the "other side of Lahore." Titled Lahore Landing, the documentary offers a peek into the city's cultural milieu, cityscape and stories of some of its most vibrant people. The Express Tribune caught up with the makers of the documentary to find out about their experience, challenges and learnings.


The project has been undertaken by Taahira Ayoob as producer, Jeremy Ho as director, Jemimah Seow as web designer, and Andre as director of photography. One of the first questions people ask them is why Pakistan and what other side they aim at exploring, with an occasional disgruntled look. "We often got a bemused look and one reply 'There is no other side'," Jeremy shared.




Their interest in Pakistan sparked when Taahira visited Karachi for a journalism-based internship. She shared her experiences, from seeing underground indie rock concerts to alfresco BBQ nights. "We were surprised but we shouldn't have been … looking back, it's ridiculous," added Jeremy. "It seemed that all the media shared about life in Pakistan was violence and terrorism when it was a lot more than that. As media students, we saw a communication problem — an information asymmetry that needed to be questioned."

Read: Exhibition: Photos on Punjabi culture featured

And so began their quest to show the other side of Pakistan through the perspective of the country's citizen activists. It turned out to be a learning process for them, where they came to Pakistan in hopes of depicting the city's culture just like any travel documentary, but situational incidents allowed them to witness the resilience of the people. "This project would allow me to spread the good faith of the people I met in Pakistan. I know them to be anything but terrorists. They deserve the respect of not being pigeonholed that way," noted Taahira.




Prior to their arrival, Jeremy share they had almost the same preconceived notions about Pakistan as everybody else, but they reduced with continued research. "We had gotten to know more [about the country] as we met Pakistanis in Singapore, but we carried with us certain notions regarding its backwardness and lack of international connectedness," he explained. "But when we arrived, our perceptions were further put an end to." He also shared how travel and food, such as international chains, were readily available, "much like Singapore."

Read: Game changer: Reinventing Lyari, one photograph at a time

The team opted for Lahore because it's among the most culturally prolific cities of Pakistan. "Through our research, we found that there were many civil society and rights advocacy groups, one of the highest percentages of NGOs around, and a significant youth population," said Jeremy. "When we dug further, we found that it was common for the youth to step up and take an active role in helping the country. They were proactive and involved in their nation's future." They've featured the stories of three locals, Risham Waseem (activist), Muhammad Murtaza (entrepreneur), and Taimur Rehman (musician and academic) in their documentary.




Of the challenges they faced, Jeremy shared, "Food poisoning was one of our big initial problems. We took a while to figure out what street food was clean. Imran Khan's city lockdown also posed an issue in terms of getting around safely." He added, "One of our worries was not representing Lahore and Pakistan in an honest and sensitive way, and it was something we didn't take lightly, so we're so glad that Pakistanis themselves have taken well to it." The documentary will be featured in a media centre in New York and is currently being considered for nine film festivals.

Published in The Express Tribune, August 10th,  2015.

Like Life & Style on Facebook, follow @ETLifeandStyle on Twitter for the latest in fashion, gossip and entertainment.

 
COMMENTS (5)
Comments are moderated and generally will be posted if they are on-topic and not abusive.
For more information, please see our Comments FAQ