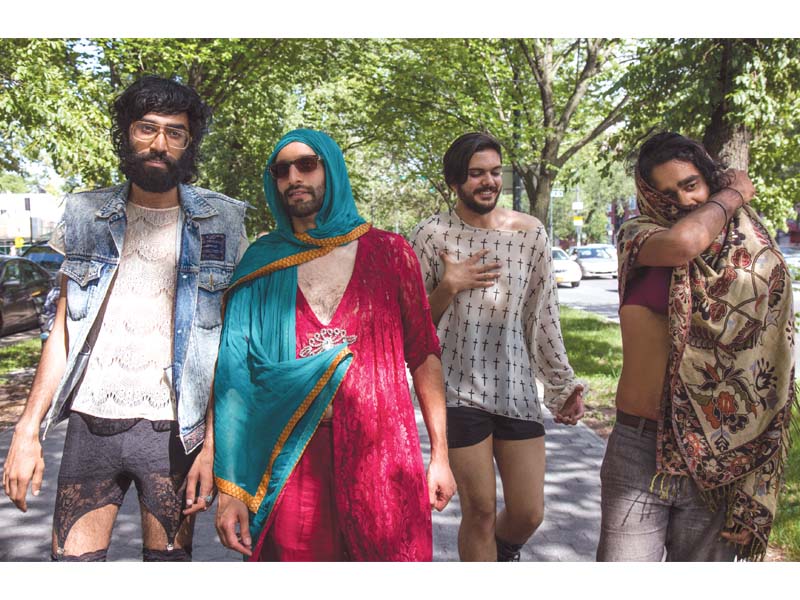 ---
PESHAWAR:



American-desi punk band The Kominas recently released their third album after the success of their first two self-released albums. Three of the four band members are of Pakistani and Muslim descent, with their cultural and religious heritage having a strong influence on both the group's lyrics and personal lives.

The band comprises Shahjehan Khan, Basim Usmani, Hassan Ali Malik and Karna Ray. Shahjehan, who's a founding member of the quartet, caught up with The Express Tribune to take a retrospective glance at the band and how they continue to earn their spurs in the American garage rock and punk scene.




In their latest album Stereotype, released this past June, the band largely focuses on socio-political issues, including racism, Western Islamaphobia and police brutality. "In many ways, it's a return to the lyrical and political passion of the first record with the expanded and accessible sonic palette of the second and third ones," said Shahjehan about Stereotype, which is his favourite album to date. He stressed the importance of being a desi rock band of today. "It's more relevant than ever for people of colour to seize the limelight, especially in punk-rock music, otherwise people will continue trying to tell our stories for us," he explained.

Read: Musicians need to keep evolving: Kashan Admani




Sharing his enthusiasm over the band's newest album, he said, "We have written our best songs and our musicianship as a live band is better than ever, evident in the quality of the music. It has received phenomenal reviews already in the US, more than we imagined it would." Future plans for The Kominas include touring throughout the year, and premiering a series of music videos to accompany their latest release, with the hopes that they'll get to perform in Pakistan one day.

The band began in the basement of their parents' houses in the East Coast of the United States around 2005. The members seem to have known from their early days that they were carving a musical niche, something that they were deprived of as teenagers growing up in multicultural homes. "[Idea of the band's formation] came about as a desire to fill the emptiness of a lack of desi-American experience in garage rock and punk rock," recalled Shahjehan. "We wanted to become that band we so desperately wished we had growing up, sort of like Asian Dub Foundation was for desis in the UK."

Read: Rocky road: 'Revive live music to rejuvenate a threatened industry, say music researcher 

Several years ago, The Kominas featured in the critically-acclaimed documentary Taqwacore, which has been popularised as a subgenre of Islamic punk music. But Shahjehan insists the band has since moved away from this myopic categorisation, as it was promoted in Western media under a veil of racism. "Back in 2004, when some of us read the eponymous book by Michael Muhammad Knight, it became a term that made searching for similar artists, with a heritage in Muslim countries, easier," he said.



Shahjehan added that the band members became friends with the author, but since then, have preferred to move past this term. "We the members of The Kominas, who have Muslim-Pakistani parents, are proud of our heritage, and feel religion and politics play a critical part in everyday life," he stated. He shared how a year spent in Pakistan with fellow bandmate Basim was a transformative experience for him. It was so, he said, "not in the typical 'hippie white dude goes to India' way, but in how it solidified his belief that [his] multi-faceted identity is something [he] should be proud of rather than attempt to Americanise [himself]."




He appreciates all that his Pakistani parents did to raise him in a desi home and teach him religious and cultural traditions, despite him having a homogenous primary- and high-school experience. "I am so grateful to both my mother and father for everything. My parents did a phenomenal job raising me in a desi household, be it through cuisine, language, connection with family abroad, and community-building here at home."

Published in The Express Tribune, August 9th, 2015.

Like Life & Style on Facebook, follow @ETLifeandStyle on Twitter for the latest in fashion, gossip and entertainment.