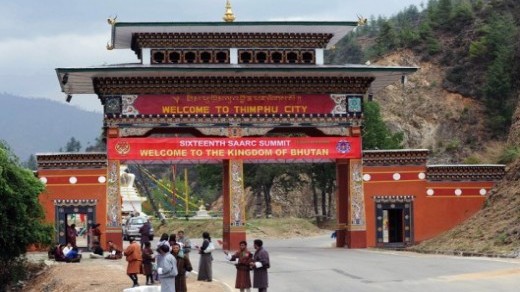 ---
THIMPHU: A visit by a top foreign dignitary is still a big event for the tiny Himalayan kingdom of Bhutan. The combined presence of seven foreign heads of government is simply unheard of.

Like a shy debutante taking her first steps in high society, the landlocked and still relatively reclusive nation sandwiched between China and India is playing hesitant and slightly awkward host to its first ever regional summit. And the nerves are showing. "As a small country, receiving so many high-level dignitaries has been very challenging for us," the country's foreign secretary, Daw Penjo, admitted to reporters Monday in the capital Thimphu.

"So we must ask for your patience as well as your understanding," Penjo said. In the 25-year history of the eight-nation South Asian Association for Regional Cooperation (SAARC), Bhutan has never hosted one of the regional bloc's leadership gatherings.

When asked to do so in the past, it had always modestly demurred, citing a lack of resources to provide the levels of comfort and security that such an event requires. The reticence was understandable. After centuries of self-imposed isolation, Bhutan's opening to the outside world is still in its infancy.

Fiercely protective of the indigenous Buddhist culture of the majority Drukpa people, the hereditary Wangchuck monarchy tentatively opened the kingdom to outsiders in the 1970s and tourism -- although now a major foreign revenue earner -- remains highly restricted. But change has come quickly, especially in the past decade, which witnessed the lifting of a ban on television in 1999, the arrival of the Internet and the introduction of two-party democracy in 2008.

Hosting the two-day SAARC summit, which will begin on Wednesday, is another major step for a country that increasingly sees its unique culture as a facet to be promoted rather than protected. "In one way, this summit is a coming out party for Bhutan," said Tenzing Lamsang, the 28-year-old news editor of the kingdom's first and only financial newspaper, Business Bhutan.

"You could say it's like the Olympic Games were for China, albeit on a much smaller scale," Lamsang said.

The effort that has gone into the preparations is obvious. On Monday, two days before the summit began, the 60-kilometre (40-mile) route from the main airport in Paro to Thimphu was already lined by thousands of schoolchildren waving the flags of the eight SAARC nations.

Giant welcome banners straddled the road at regular intervals, along with billboard-sized portraits of the presidents and prime ministers of Afghanistan, Bangladesh, India, the Maldives, Nepal, Pakistan and Sri Lanka.

The roster of countries underlined the challenge this nation with a population of just 700,000 took on in guaranteeing security for the leaders of 1.5 billion people in a region rife with conflict and tension.

The theme of the summit -- "Towards a Green and Happy South Asia" -- is an optimistic nod to Bhutan's home grown development philosophy of Gross National Happiness, or GNH.

Conceived by his father and ardently supported by the current monarch -- 30-year-old Jigme Khesar Namgyel Wangchuck -- GNH is now official government policy.

Seeking a more holistic indicator of development that transcends the "materialism" of Gross Domestic Product, GNH measures four criteria -- sustainable development, preservation and promotion of cultural values, conservation of the environment, and good governance.

Officials say pursuing GNH does not mean ignoring GDP -- in fact on that score, the country is doing rather well, clocking an average of about eight percent growth a year for the past few years. Rather, they say, it is the type of growth that is important -- hence policies of providing free education and health care, a clean mountain environment and making sure the country's religious and cultural traditions remain intact.

Selling the concept to SAARC members, like bitter rivals India and Pakistan, or conflict-ridden Afghanistan, is no easy task.

"Since they're coming to Bhutan, we'd like to share the GNH feeling," said Thinley Dorji, head of the foreign ministry's policy and planning division. "But we can't guarantee they'll all be willing to adopt it as a guiding philosophy."