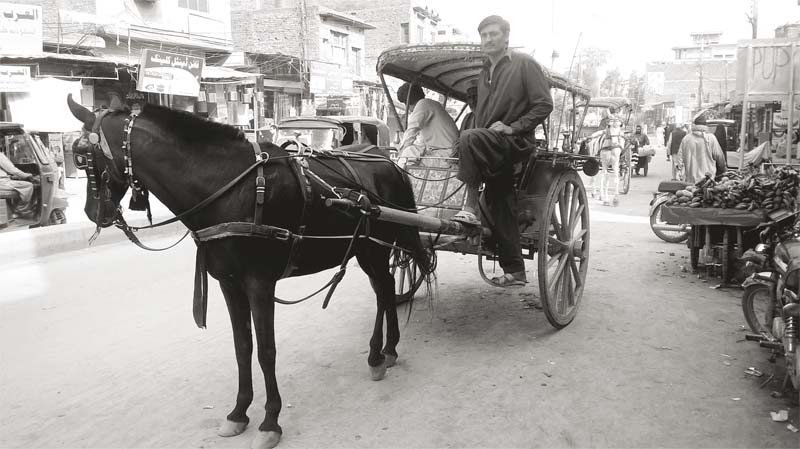 ---
From Khyber to Karachi, the horse-drawn, wooden carriage — locally known as 'tanga' — has been a widely used mode of transportation in the past. In another part of the world, the British are so enamoured with the contraption, the royal family still features it in their weddings. Prince William and Kate Middleton, as well as Diana and Prince Charles, rode one when they tied the knot. Queen Elizabeth has also been frequently seen in one, especially during her birthday parade. However, over time, the tanga has handed over its reins to more modern modes of transport.

For the people of Pakistan, the tanga was a cheap source of travel. In Peshawar, most people preferred to go around in a tanga, which has been eulogised in Urdu and Pashto literature and picturised in songs dotting films, such as the popular 1969 Pashto flick Kochwan (carriage driver). Just like the British, the people of Peshawar also used the tanga in their wedding ceremonies. The bride sat in the rear while the groom rode up front with his friends. For the affluent, it was a matter of pride.

Qissa Khwani bazaar, which served as a gateway to Central Asia for businessmen, had a tanga stand from where people ventured to other parts of the city. One could easily hire the services of a tanga from different points of the city such as Sunheri Masjid, Gora Bazaar, Abdara Road, Ramdas, etcetera. But with time, these tanga stands gradually disappeared.




With the advent of the auto rickshaw, the horse-drawn carriage began to lose its utility. "I have been associated with the tanga profession for the last 40 years," shares tanga owner Mir Zaman, 60. He adds his father and grandfather also made a living riding tangas. "I take local and foreign visitors wherever they want to go in my tanga." He agrees the arrival of auto rickshaws and the more modern Qingqi has pushed the horse-drawn carriage to the margins. Zaman says he now barely makes Rs500 per day of which Rs300 is spent on fodder for the horse, leaving him with Rs200 to get by with.

According to Mir Zaman, around 150 tangas would be available at the stand on Abdara Road in the past, but now only one or two can be seen as most kochwan have switched to auto rickshaw or Qingqis in hopes of earning a better living. Moreover, he complains traffic policemen do not let them ride their tangas on main roads, forcing them to be confined to service lanes.

Muhammad Jan, 45, from Kohat Road, Peshawar, who repairs tangas, says, "I have been in this profession for the past 30 years." He adds that he too inherited the skill from his forefathers. Jan claims his profession was once a flourishing one in the metropolitan because of the widespread use of tangas, which naturally required frequent repairs due to their widespread use. "Now, I only make Rs200 per day. Tell me, how can I feed my family with such a meagre income?"

Fayyaz Khan, while climbing on a tanga on Abdara Road, University Town, says he always prefers to travel in the horse-drawn carriage because it is more comfortable than an auto rickshaw or Qingqi, besides also being easier on the pocket. "The sound of the horse's footsteps cannot be described in words. When you sit in a tanga, you imagine yourself as a member of the royal family," Khan says. He adds the kochwan keeps him entertained with traditional stories during the ride — an added boon. However, Khan is clearly not the typical traveller, with his preference likely to be branded as eccentric by most commuters today.

Traffic policeman Khan Wali says the maddening traffic on the city's roads has forced them to keep tangas off the main routes of Peshawar. With the great rush of motorists, Wali says it would be impossible to manage vehicular traffic if tangas are allowed to ply main roads.

As buses, cars and rickshaws whizz past Wali leaving behind clouds of dark smoke, their drivers honking and screaming at each other, one finds it hard to forget a time when no blaring horns drowned out the clip-clop of horses that Khan finds so difficult to find the right words to pay tribute to.

Wisal Yousafzai is a Peshawar-based journalist.

He tweets @WisalYousafzai

Published in The Express Tribune, Sunday Magazine, August 2nd, 2015.
COMMENTS
Comments are moderated and generally will be posted if they are on-topic and not abusive.
For more information, please see our Comments FAQ