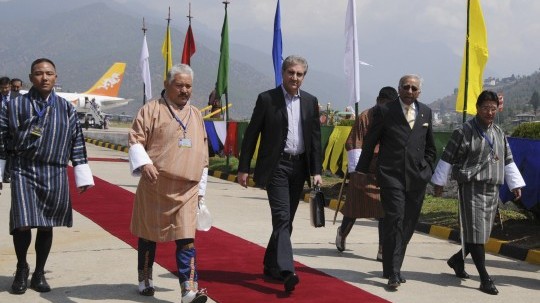 ---
ISLAMABAD: Issues relating to regional cooperation in the South Asian region were reviewed during discussions on the framework of Saarc at the 32nd Session of the Saarc council of Ministers which took place in Thimpu, Bhutan, on Monday, according to reports recieved here.

Foreign Minister Makhdoom Shah Mahmood Qureshi, arrived in Thimpu, Bhutan, this morning and met with counterparts Lyonpo Khandu Wangchuck, Bhutan's Minister In-charge of Foreign Affairs and Professor GL Peiries, the Foreign Minister of Sri Lanka. The meeting with the Bhutanese Minister proved successful where Qureshi thanked the Royal Kingdom of Bhutan for making excellent arrangements for the 16th Saarc Summit and appreciated the exceptionally warm hospitality to the Pakistan delegation.

The two ministers agreed that the time had come to seriously focus on important issues, including energy, climate change, water management, agriculture, education, science and technology and rural development as Saarc has a vast potential to develop into a vibrant regional organisation. Qureshi extended an invitation to a parliamentary delegation from Bhutan to visit Pakistan. Wangchuk said that he would convey the invitation to the Speaker of Bhutan's National Assembly.

Foreign Minister Qureshi also briefed his Sri Lankan counterpart about the law enforcement operations in Swat and Malakand and the FATA region and how the government had been trying with national consensus to fight the scourge of violent extremism. He also apprised Prof Peiries about the 18th Constitutional Amendment. The state of bilateral relations was reviewed and it was agreed that there was a huge scope in learning from each other in sectors of education and human resource development.

Qureshi also underscored the need for enhacing intraregional people-to-people interaction. From the Pakistan side, the meeting with the Sri Lankan Foreign Minister was also attended by Foreign Secretary Salman Bashir.
COMMENTS
Comments are moderated and generally will be posted if they are on-topic and not abusive.
For more information, please see our Comments FAQ