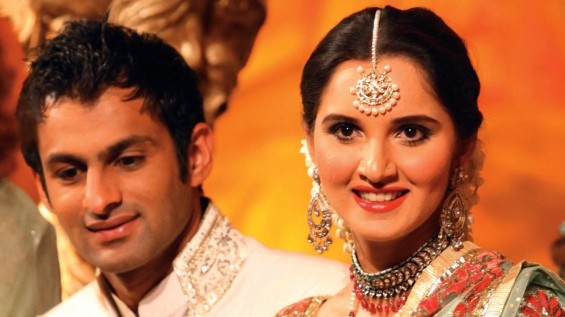 ---
KARACHI: Shoaib Malik and Sania Malik are the 'it' couple in Pakistan but whether its due to news fatigue or something else, the couple has started irritating people in the country.

Ever since they announced their engagement, Shoaib Malik and Sania Mirza have been making headlines in Pakistan and India, but the headlines have changed with a number of people having problems with the couple.

SNEAKING OUT

A number of security personnel had been assigned to protect Malik and Mirza and were present at the airport and at the hotel to ensure that Malik and Mirza did not face any problems. However, Malik and Mirza left the hotel via the back entrance without informing the police.

In response SP Civil Lines Haider Ashraf told Express News, "We are doing everything we can to ensure his safety, it is important for him to cooperate with the police and we have asked him to tell us before he goes anywhere. If he does not oblige then it is not our responsibility".

LAW BREAKERS

Two petitions have been filed in the Lahore High Court and Sessions Court with regard to Malik and Mirza's wedding in Sialkot. The petitioners Hassan Shiraz and Safdar both belong to Sialkot and have strong misgivings about the wedding.

Shiraz said that he filed the petition because the one-dish rule was allegedly violated during the marriage celebrations and there was also extensive use of lighting. Safdar said he was disturbed by the fact that the couple reportedly sold invitation cards for their wedding and the courts should take action against this.

SHE'S GOT ATTITUDE

Lollywood designer Beejee, who was earlier reported to be designing Sania Mirza's wedding outfits, has now revealed that she refused to take up the order after seeing Mirza's attitude towards Pakistan. Beejee mentioned Mirza's words from an interview where the tennis star reiterated that she was proud of her Indian identity and would always support her country. Beejee is equally angry at Malik for not intervening while Mirza made the statements.

MEDIA BUZZ

Director Karan Johar has been upset since day one about media overrating the event. "Bookies betting on a nikaah, astrologers entering the loop … is this kind of front page space justified? It is Sania overdrive! STOP!" he tweeted. After their nikah, he went on to write, "Thank the Lord! The wedding of the decade is this evening ... the world can rest thereafter." KJo is not the only one and many Pakistanis and Indians have been complaining about the excessive coverage of the couple's wedding.

SHOANIA: SHOW US THE MONEY

Malik and Mirza reportedly asked the media for Rs30 to 50 million for exclusive coverage rights while they remain in Pakistan.

The couple wanted to sell the rights to cover their reception in Lahore and Sialkot - something that is standard practice with celebrity weddings abroad. The couple were so harangued that they refused to talk to media personnel and told the management of the hotel they were staying at that they would leave if they allowed journalists in.
COMMENTS (21)
Comments are moderated and generally will be posted if they are on-topic and not abusive.
For more information, please see our Comments FAQ