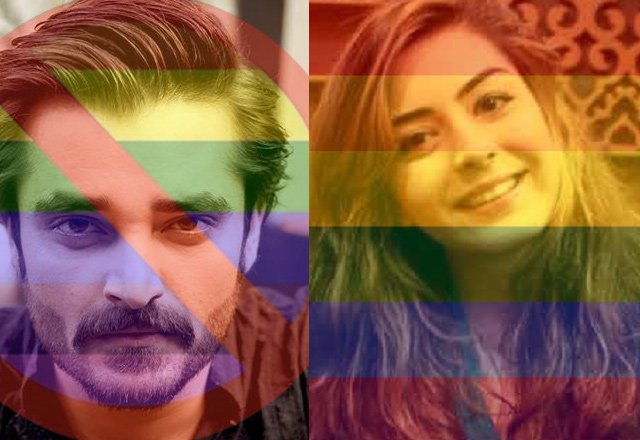 ---
Entitlement of opinion is a luxury only human race enjoys. Hamza Ali Abbasi is known to have an opinion on almost everything that stirs up controversy -- the most recent one being his stance on the legalisation of gay marriage in the US. 

As we reported earlier, Hamza put up a status on Facebook expressing his disappointment at people in Pakistan celebrating the US Supreme Court judgment. He has since edited his post multiple times probably because he just kept wanting to add more without breaking the impact of his opinion.




He then edited it to redefine 'human equality' because apparently he feels a lot of people are butchering the notion with a kleaver.




And the novices must know what tolerance is about.






But when the 12-year-old showed his innocent inquisition, Hamza sensed the danger that the minds of the youngsters might get polluted.




Hamza and his guesses..




The actor also changed his Facebook profile picture:




He doesn't seem to be active on Twitter but the issue at hand was so serious it prompted Hamza to share his opinion there was well:

I can tolerate Pakistanis celebrating gay marriage being legal in US, but i will not celebrate it. Hate the sin, not the sinner.

— Hamza Ali Abbasi (@iamhamzaabbasi) June 28, 2015

The reactions to his posts were extreme. Some showed support, others opposed.

Read: Hamza Ali Abbasi, social activist or moral crusader?

Here are different reactions compiled from social media that followed Hamza's opinion on the legalisation of gay marriage in the US:



Hamza Ali Abbasi could just inform his nephew that gay marriage is legal in the US now, & it's voluntary. His nephew could be less ignorant.

— Usama Khilji (@UsamaKhilji) June 28, 2015

https://twitter.com/KiranOpal/status/615273131331026945

Hamza Ali Abbasi reminds me of a friend who knows nothing about anything but has to comment on everything just to look cool.. #Moron

— Usman Syed (@usmansm) June 28, 2015
@KhanDH90 @iamhamzaabbasi religion nonsense spouted by idiots and followed by those who can't think for themselves

— christopher (@Chris453Chris) June 28, 2015

https://twitter.com/AlmasVaseem/status/615184716786991105

@iamhamzaabbasi Hate the belief not the believer. And your beliefs are roundly stupid.

— Booya Bible (@BooyaBible) June 29, 2015

https://twitter.com/ChuckUmeboshi/status/615359520018034688

@iamhamzaabbasi Barbaric neanderthals like you are just one of the few things which require desperate eviction from this country. Bellend!

— mehdi 🌻 (@smhdr) June 28, 2015
@iamhamzaabbasi Wish we had more saner voices like u in show biz. Keep going Hamza, u might add good values to the industry.

— Salman Latif (@SalmanLat) June 28, 2015
@iamhamzaabbasi Moral crusader. This nincompoop knows how to use Islam as tool to fuel people's emotions. Social activists! take notes.

— stencil (@bluntpariah) June 29, 2015

https://twitter.com/BajiPlease/status/615219179667369984

An interesting debate started when Imaan Hazir Mazari, daughter of Shireen Mazari -- spokesperson of PTI -- raised her voice in favour of gay marriages.

"@BuzzFeed: Celebratory photos from SC after pro-marriage equality ruling http://t.co/3kKcsnc54h pic.twitter.com/4uT8NivNlu" Good job, America!!

— Imaan Zainab Mazari-Hazir (@ImaanZHazir) June 26, 2015
Someone else finally having the right to marry someone they love doesn't make a difference in your life. Keep your hate to yourself.

— Imaan Zainab Mazari-Hazir (@ImaanZHazir) June 27, 2015
Bigots hating on marriage eq saying things like "u were born bec ur parents were straight." Appalling how such ppl exist in the 21st century

— Imaan Zainab Mazari-Hazir (@ImaanZHazir) June 27, 2015
No religion teaches u to discriminate/spread venom ag a particular grp of people based on your personal life preferences. #BanHamzaAliAbbasi

— Imaan Zainab Mazari-Hazir (@ImaanZHazir) June 28, 2015
I just reported Hamza Ali Abbasi for hate speech.
Please do the same. Incase you haven't read the filth he wrote: https://t.co/GSMvjwjp8n

— Imaan Zainab Mazari-Hazir (@ImaanZHazir) June 28, 2015


The debate led to two trends on Twitter, one to report Imaan Mazari and the other to ban Hamza Ali Abbasi

So clearly I was right about PTI being a bigoted party. PTI supporters have started trending "Report Imaan Hazir." If you think you can 1/2

— Imaan Zainab Mazari-Hazir (@ImaanZHazir) June 28, 2015
I stand with @ImaanZHazir! You go girl #BanHamzaAliAbbasi

— A A (@aalmisterr) June 28, 2015
Okay so now idiots want to report @ImaanZHazir because she's speaking up for marginalised groups. Selective morality on rights by bigots.

— Usama Khilji (@UsamaKhilji) June 28, 2015
Didn't expected this type of Reply frm Shireen Mazari .
@HamzaAbasiAli #ReportImaanZHazir pic.twitter.com/YmqtCLZZ4z

— عاصم منیر اور قمرباجوہ غدار ہیں (@G0_NAWAZ_G0) June 29, 2015
#BanHamzaAliAbbasi not because he doesn't have the right to free speech but offending a group of people is not free speech it's rude.

— Vishal farid raza (@vishalraza) June 28, 2015

https://twitter.com/mehrma234/status/615377230936420352

R all the desi liberals gay? We understand you love Billo, but same sex marriage is forbidden in Islam! Hamza is right! #BanHamzaAliAbbasi

— Batool Ali 🥀 (@Naarae_Haideri) June 28, 2015
Well done, lads, you've served your nation well by bad mouthing a girl on Twitter. How dare she question (your concepts) of morality, no?

— Nadeem Farooq Paracha (@NadeemfParacha) June 29, 2015


And there are some users who still have no clue what's going on:
https://twitter.com/OyeTalha/status/615306943674998784

And some are just having fun:

It's hilarious seeing the Twitter civil war amongst the PTI trolls and their dueling hashtags of #ReportImaanZHazir & #BanHamzaAliAbbasi 😂

— Zeeshan Shah (@zeeshan_shah_dc) June 28, 2015


And there is one with twisted hopes:
https://twitter.com/umerhusein/status/615258246803161088