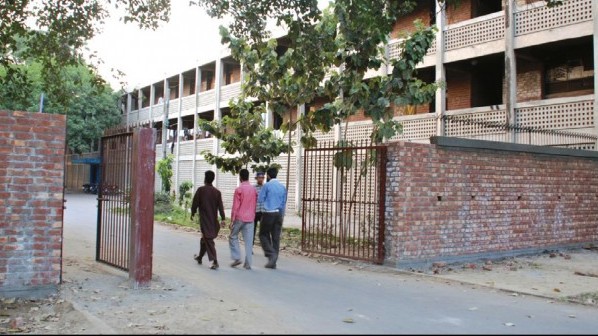 ---
LAHORE: Islami Jamiat Talaba (IJT) activists plan to pull down the recently erected walls around Punjab University's (PU) hostels, The Express Tribune has learnt.

They have complained that the walls hinder the free movement of hostel residents. The walls were erected during the 18-day closure of the university after a teacher was beaten up by several IJT men.

The deteriorating security situation was used to justify the move. The walls enclosed three hostel blocks containing hostels number 1, 2, 3 and 7 which reportedly housed a large number of IJT sympathisers.

Several residents told The Express Tribune that they had to walk extended distances to reach the Student Teacher Centre (university's main marketplace). They said that the wall only had a few entry/exit points and a large number of guards were deployed on these points. They said that the security checks required at these points wasted a lot of time.

Hassan, a student of research studies who resides in hostel no7, said that the IJT was considering pulling down the wall. He said that their midterm exams were starting April 26 and the IJT could pull down the wall in the upcoming days while the administration would be busy with the exams. "The organisation could play up on the students' anger and portray itself as a champion of their cause."

IJT central information secretary Kashif Javed confirmed that the IJT did not approve of the wall. He said there was not a single example in the 120 years of PU's history of the administration erecting a structure to obstruct free movement of the students.

"We have formed a committee which is looking into the matter, it would soon present a report," Javed said.

He said that the IJT would do what it could to stop the university administration "from such illegal acts".

The IJT is said to have earlier pulled down a wall of a room in hostel # 1 to establish its office. The administration re-erected the wall the next day and employed a guard to keep watch over it. A complaint was lodged by the PU administration against the student organisation at New Muslim Town police station in this regard.

PU registrar Dr Muhammad Naeem told to The Express Tribune that the administration would not tolerate IJT's "criminal activities" on the university premises.

Naeem said that the administration realised that the walls were causing inconvenience to the students "but it is for their security, the IJT would not be allowed to raze it".
COMMENTS
Comments are moderated and generally will be posted if they are on-topic and not abusive.
For more information, please see our Comments FAQ