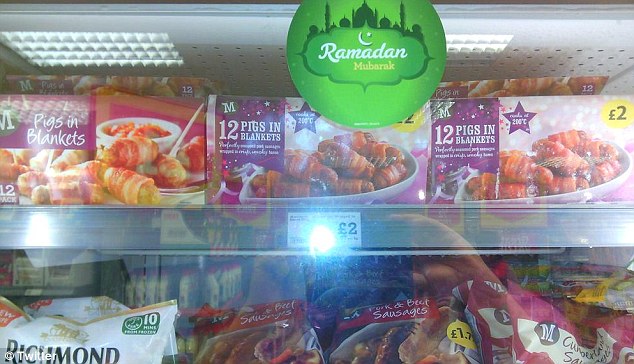 ---
A badly thought-out marketing strategy caused Morrisons severe criticism when the famous chain of supermarket put bacon products in their shelves with Ramazan promotion stickers.

Supermarket staff across the country are being called out for religious blunders, as another 'disappointed' shopper published photos of the mistake.


PHOTO: TWITTER

Customer Shoaib Khan spotted the sticker on a freezer containing 'pigs in blankets' and other pork products. The 32-year-old shopper, who is currently observing Ramazan, said, "I don't think it's offensive but it's disappointing. If you're going to do something like that you need to do it properly."

"They need to be careful about this sort of thing," he added.

Another customer spotted the same label in a store in Bedford, this time advertising ham and cheese ciabattas.

Read: Tesco comes under fire for promoting bacon-flavoured Pringles in Ramazan deal

Twitter users were shocked by what has been called the insensitivity of promotional stickers.

https://twitter.com/CrazyweatherUK1/status/614157073866190848

In an attempt to defend itself, Morrisons claimed that the sticker had been moved.

A spokesperson said, "Somebody appears to have moved the sticker before the photo was taken. We can confirm that the Ramadan sticker is not near any pork products this week."

Morrisons also replied to a tweet from a customer, saying:


@CrazyweatherUK1 I am very sorry for this, we are currently looking into this-Gemma

— Morrisons (@Morrisons) June 26, 2015


Not many days ago, Tesco came under fire for promoting bacon-flavoured Pringles as part of a Ramazan deal.

The grocery chain's store in London advertised the 'smokey bacon' crisps as part of a Ramazan deal, causing a stir in the Muslim community, since pork is forbidden in Islam.

However, Tesco accepted the move was ill-advised.

"We are proud to offer a wide range of meals and products to meet the needs of our customers during Ramazan. We recognise these Pringles weren't in the most suitable place and our store colleagues have now moved them," a Tesco spokesperson said.

PHOTO: RAZA HASAN

Earlier, it was reported supermarkets in Britain have witnessed sales rise by almost £100 million during the holy month.

Three million Muslims in the UK break their fasts with sundown meals during the Holy Month, something that is seen as an opportunity by supermarkets, with retail consultants noting that Ramazan is now the third most important religious event for stores, behind Christmas and Easter in the UK.

Tesco runs Ramazan promotions at more than 300 of its stores in Britain, and said demand for key products including flour, oil and dates rises by as much as 70%.

The article originally appeared on Daily Mail
COMMENTS (3)
Comments are moderated and generally will be posted if they are on-topic and not abusive.
For more information, please see our Comments FAQ