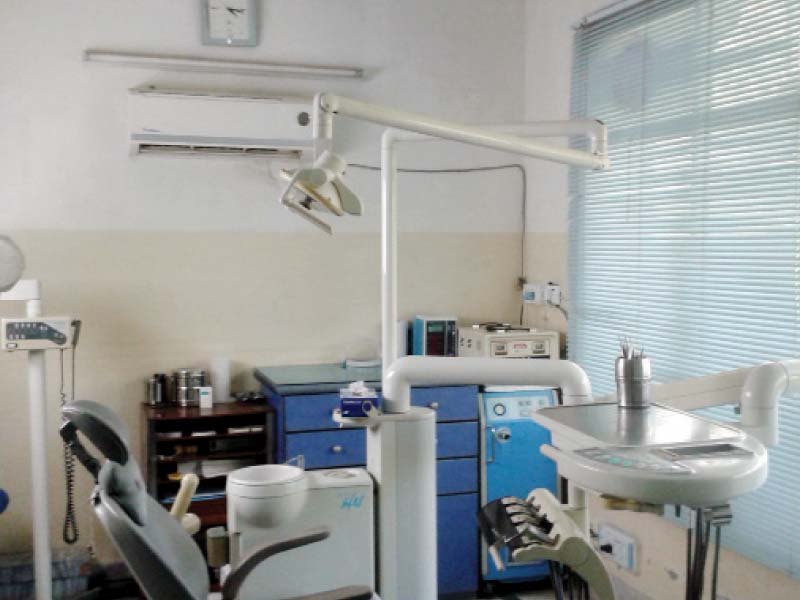 ---
MINGORA:



Rushing out from a private dental clinic with holding his jaw with one hand and blood oozing from his mouth, Abdullah was cursing the doctors and the assistant inside for being harsh with the treatment.




"They are butchers; they want to pull my tooth out without giving me proper anaesthesia or using sterilised equipment," he said.

Read: Peace committee member's son killed in Swat

Since morning, Abdullah was suffering from a severe toothache and went to Saidu Teaching Hospital (STH) for a check-up. However, he found no dentist at the facility and had to go to a nearby private clinic.

The assistant, who was working in place of the dentist at the clinic, closed the place and ran away as he was approached for comments by The Express Tribune. However, Dr Khalid who works at another clinic told The Express Tribune that most of these places do not have sterilised dental instruments and spread deadly diseases among patients.

Equipment issue

Dr Khalid added oral health clinics should have an auto-clay machine for sterilisation but it is an expensive tool and is only available at government hospitals where it is rarely used. "The autoclave machine is an easy method to sterilise the tools, but the dental staff at hospitals is too lazy to perform the task two or three times a day."

Read: The displaced genius: IDP shines through to clinch top positions in SSC exams

STH Medical Superintendent Dr Shah Doran agreed that government hospitals have an auto-clay system for sterilisation, but "the problem is that there is no operator for it". STH has announced a vacancy for the position multiple times but no one has applied, Doran said. The staff should take every possible measure to disinfect and sanitise their tools and equipment, he added.

However, a dental doctor at STH, requesting anonymity, said tools used for oral care should be discarded after being used on 50 patients but in hospitals they are used until they "stop working". The most common tools, said the doctor, include forceps, root splinters, pliers and mouth mirrors but hardly any of them are used in a hygienic way.

He added they get around 130 to 150 patients on a daily basis for root canals, teeth scaling or extractions. The tools used should be clean but this is not the case, he said.

Read: Heavy Downpour: School damaged by landslide

"Sterilisation takes 15 minutes and should be done three or four times daily, but this is not the case at government hospitals," he said. The doctor added the process barely takes place once a day. "Most of the times doctors do not have time to clean the tools as there are many patients waiting."

The doctor said, "These tools spread diseases such as hepatitis B and C and HIV." The medical system in Pakistan, he added, should be evaluated to prevent patients from being exposed to such diseases. He also said sterilisation material, such as the auto-clay machine, was provided by foreign donors and not the government, thereby lacking accountability.

Published in The Express Tribune, June 28th, 2015.