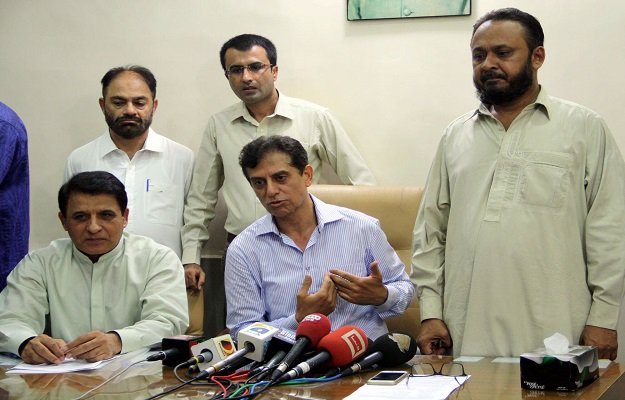 ---
KARACHI:



There is an entire family of ghost employees in Karachi Metropolitan Corporation's (KMC) education department that is drawing salaries of up to Rs700,000 every month, the Federal Investigation Agency (FIA) has revealed.




Muhammad Saleem alias KK is the KMC employee who opened 21 fake accounts for not only his 65-year-old mother-in-law, his wife, sisters, brother-in-law, friends and even his deceased father, said FIA director Shahid Hayat at a press conference on Saturday.

Apart from Saleem, there are eight officials in KMC's education department, including education director Mansoor Mirza, his predecessor Muhammad Ameen, deputy director Raziur Rehman, administration deputy director Saleem Kale Khan, accounts deputy director Muhammad Mazhar, clerks Hassan Ahmed and Syed Naveed Jameel, and Habib Bank Limited manager Alim Hussain Qadri, who are allegedly involved in fraudulently embezzling millions of rupees through the salaries of ghost and fake employees.

Hayat said that nine of the accused have been arrested under FIR No. 38/2015 registered at FIA Commercial Banking Circle, on charges of opening of fake and fictitious bank accounts in the name of family members, front persons and friends in connivance with the banking staff of HBL.

"Apart from the eight accused that have been held, three have absconded," he said. Former education director Khurram Arif, who is now the director of the KDA wing, assistant education director Abdul Khaliq, who has allegedly been terminated from services on corruption charges, and Sadaf Zehra, an HBL officer are among the absconders, he added.

Every month, these officers are embezzling up to Rs30 million through salaries to ghost employees of KMC's education department, said Hayat. According to him, the accused officers used to feed fake details of their friends and relatives in KMC's payroll system. They sought the help of KMC's payroll director Muhammad Ameen and used to generate fake employee codes.

The assistant education director, known among his peers as 'Chaudhry', used to prepare fake and bogus supplementary bills through a pay sheet clerk, also known as a thekedar, using the name of a front person. "Fake and bogus supplementary bills used to be signed by the education director for further processing," said Hayat. "On the basis of supplementary bills, the payroll department used to issue bank advice and the finance department used to issue salary cheques."

The education director used to write letters to the relevant HBL branch to open bank accounts of fake people as KMC employees, he added.

According to Hayat, hundreds of fake and fictitious employee codes have been generated under the names of front persons, relatives and friends of Saleem, Muhammad Ehsan and Mansoor Mirza and other employees of the education department.

When Saleem was produced before the media during the press conference, he said that this kind of corruption has been taking place since 2001.

Hayat pointed out that Rs200 million, out of KMC's Rs500 million salary-based budget, goes towards the education department. "These millions of rupees, which are wasted in corruption, could have been spent on uplifting the department," he said, as he pledged to launch a money laundering case against the accused after seeking permission from the relevant courts.

"Since we have received powers from the Pakistan Protection Act (PPA), we can take action on that too," he said.

Published in The Express Tribune, June 28th, 2015.
COMMENTS (3)
Comments are moderated and generally will be posted if they are on-topic and not abusive.
For more information, please see our Comments FAQ