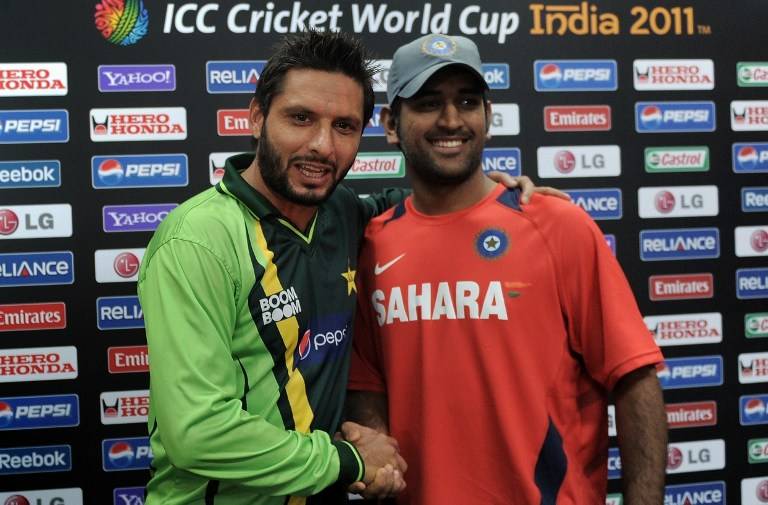 ---
KARACHI: Pakistan T20 captain Shahid Afridi came to the defence of India's World Cup winning captain Mahendra Singh Dhoni after he received flak over Bangladesh's historic 2-1 victory over India. 

"I feel really bad for the way MS (Dhoni) has been treated after Bangladesh series defeat. I completely think it's a sub-continental trend where our heroes are not spared after one bad defeat," Afridi told the Press Trust of India.

"The media is also responsible for not painting the true picture at times," he added.

Afridi himself has faced a lot of criticism back in Pakistan over the years, the reason he could empathise with Dhoni.

Clarifying that he is no implying that one should not analyse the present performance of a leader or a player, Afridi said, "Criticise him but when you do that please don't forget to also inform the world about the past. When you look at Dhoni, just look at his record before jumping to any conclusions. He has been such a tremendous player for India. His record speaks for itself."

Read: Shahid Afridi is a legend of the game: Sohail Tanvir

The buoyant batsman also credited Dhoni for building a future team of India with his able leadership. "Dhoni has built such a good team for the future. There is so much quality and talent in that batting line-up."

Further, the T20 captain praised Pakistan's domestic structure saying young and talented players are coming up for Pakistan. "Pakistan cricket's domestic structure has improved a lot in recent years."

"That is why we are now having a good supply line of youngsters in the national team and this team will only grow from strength to strength in coming days," the 35-year-old observed.

Read: Afridi blames cricket woes on lack of domestic professionalism

Afridi quit playing ODIs after World Cup in Australia and New Zealand with a record 398 ODIs. Asked if he regrets not reaching the coveted 400 ODIs milestone, he replied: "Not at all. In fact I am grateful to Almighty Allah (God) that I have got the opportunity to play for Pakistan for such a long time.

"I am very happy to play T20 for Pakistan and would like to play the World T20 in India, next year," Afridi said.

The natural slogger added that his stints in T20 league across the world are his way of staying match fit for the competitions.

"I have played in Big Bash in Australia and now I will be playing for St Kitts and Nevis in the Caribbean Premier League (CPL). In all these tournaments, you play with some of the top international cricketers in the world and you know you will have to be at your best to compete with them," said Afridi.

While signing off, Afridi said that "India's co-operation will be needed" to resume full-time cricket in Pakistan.

This article originally appeared on NDTV.
COMMENTS (6)
Comments are moderated and generally will be posted if they are on-topic and not abusive.
For more information, please see our Comments FAQ