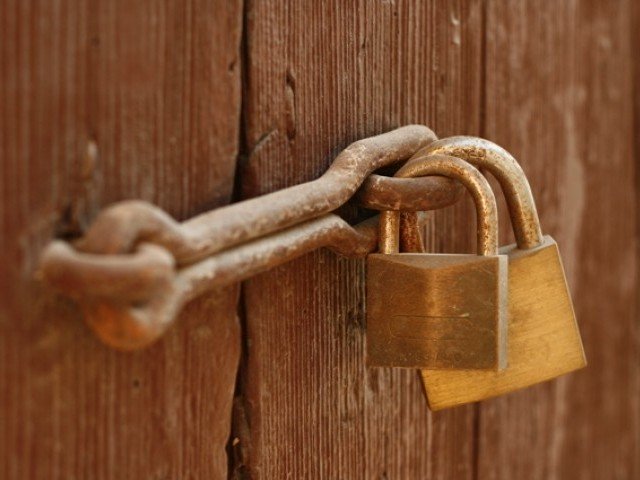 ---
LAHORE: The Sheikhupura District Bar Association suspended the membership of three lawyers and filed a reference for taking disciplinary action against another 102 advocates for locking the court of an additional district and sessions judge on Wednesday.

A notification issued by DBA president Khalid Rashid Malik in this regard said the memberships of Advocates Imranul Haq Tatla, Abdul Rauf Bhatti and Wahab Alam had been suspended.

Moreover, a reference against 105 lawyers including the aforementioned advocates has been forwarded to the Punjab Bar Council for inquiry.

The reference has been moved against Advocates Tatla, Bhatti, Alam, Qalbe Abbas, Miqdad Aqdas, Mian Abdul Saeed, Sumair Bashir, Malik Shahbaz Ahmad, Sarmad Zulfiqar, Zeeshan, Hafiz Imtiaz Ashraf, Mubashar Hassan Awan, Shoaib Nusrat, Tawakkalullah Virk, Mubashir Hussain, lmran Bhatti, Muhammad Ashraf Wattoo, Usman Ahmad, Moazzam Ali, Kanwal Shahzadi, Farooq Azam, Abdul Rehman, Rana Zahid Mahmood, Muhammad Nawaz Bhatti, Wahab Alam, Hafeezullah Maan, Syed Attique Shah, Muhammad Bilal Gadhi, Muhammad Usman, Shahbaz Ahmad, Muhammad Aamir, Rai Basharat Ali, Ikramullah Sandarana, Khurram Dogar, Zulqarnain Dogar, Mian Zaheer, Muhammad Azam, Waqas Ahmad, Shoaib Murtaza, Adeel Khan, Zaheer, Imdadullah, Shabaan, Malik Umeed Abbas, Kamran Joiya, Bilal Ahmad Saroya, Afzaal Ahmad Virk, Raheel Nawaz Wattoo, Muhammad Jahanzaib, Yasar Yaqoob, Syed Azhar Hussain, Sabahat Shabbir, Abdul Rehman Dogar, Mian Abbas Bashir, Chaudhry Tanveer Hussain, Muhammad Nauman Kissana, Javed. Iqbal Virk, Mubashir Hussain Sheikh, Abdul Manan, Riaz Ahmad Virk, Muhammad Amin, Mian Muhammad Irfan, Muhammad Ilyas, MirzaUsman Babar, Ehsanullah Virk, Qalbe Abbas Shah, Umar Chaudhry, Khurram Shehzad Virk, Malik Javed Khokhar, Tanveer Ahmad Dar, Rana Qadeer Ahmad, Tariq Mahmood, Shams Bhatti, Kaleemullah Bhatti, Hamad Nasir, Shahid Kamran, Shehryar Dogar, Amjad Ali, Ali Asghar, Zainul Abideen, Aftab Iqbal, Ijaz Bashir Chauhan, Tanveer Zahoor Gujjar, Hakim Ali, Sarfaraz Afzal, Shahid Mahmood Khan, Usman Haider Toor, Umar Nauman Zafar Chattha, Waqas Hameed, Arshad Ali, Muhammad Abbas, Muhammad Abu Bakr, Abid Mahmood, Anwarul Haq Sheikh, Ameer Ali Rana, Muhammad Rashid Kamboh, Sheikh Zulfiqar, Farooq Latif, Ehsanullah Ranjha, Farooq Zahid, Mirza, Khalid Waqas, Khurram Riaz, Malik Muhammad Murtaza, Muhammad Shabbir Khan and Rana Khurram Shahzad.

Separately, the DBA has also constituted a committee comprising former DBA presidents Muhammad Ramazan Hanjra, Chaudhry Muhammad Akbar Virk and Rana Saifullah Khan to look into the matter.

Sheikhupura Additional District and Sessions Judge Khizar Hayat Gondal had rejected a plea filed by Advocate Tatla seeking the cancellation of a bail on June 20.

Tatla had impeded court proceedings and locked the premises on Wednesday along with scores of lawyers.

The DBA had commenced proceedings against those involved in the episode after the Lahore High Court chief justice had taken notice of it.

Published in The Express Tribune, June 27th, 2015. 
COMMENTS
Comments are moderated and generally will be posted if they are on-topic and not abusive.
For more information, please see our Comments FAQ