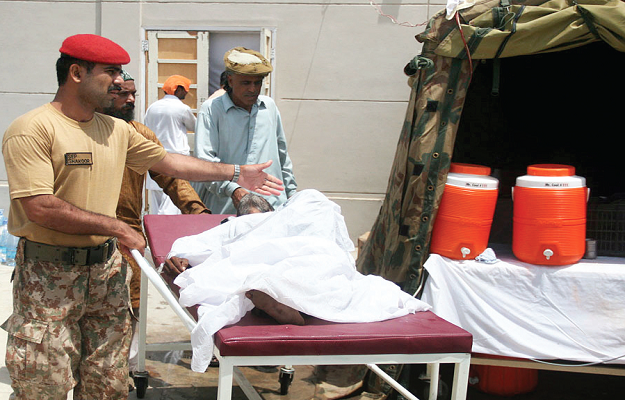 ---
KARACHI: A provincial emergency operation centre has been set up and a helpline that can be reached on 021-99239524 has been established for immediate response.

Provincial Disaster Management Authority (PDMA) operations director Nazar Muhammad Bozdar said that they are coordinating with everyone. "PDMA is providing a platform where all the information is fused into," he said. "We are coordinating with everyone and we are the focal point where everyone will get response to queries regarding different camps."

Referring to the relief centres run by the Army, Bozdar told The Express Tribune that the Army was requested by the National Disaster Management Authority to help the people.

"We started this camp two days ago," said Lieutenant Usama Tariq, the incharge at the heatstroke camp set up at Aisha Bawany School. "At first, [a lot of] heatstroke patients were coming. But now, since the weather has become a little better, we are receiving more patients of dehydration and the number [of those suffering from heatstroke] is decreasing." The commanding officer urged upon civilians to give donations for the patients.

A patient under treatment at the camp narrated his story. "I was working outside the whole day," said a gardener, Shahbaz Ali, from Chanesar Goth, Kala Pul, lying with a drip connected to his arm. "I drank water [during the day] but when I got home, I felt suffocated and had a fever." Ali was brought to the camp by his relative.

According to Pakistan Army nurse Javed Iqbal, the worst patients arrived on the first day with 106 degree fever. But now, he said, the maladies were mostly vomiting, loose motions and dehydration.

Published in The Express Tribune, June 27th, 2015.