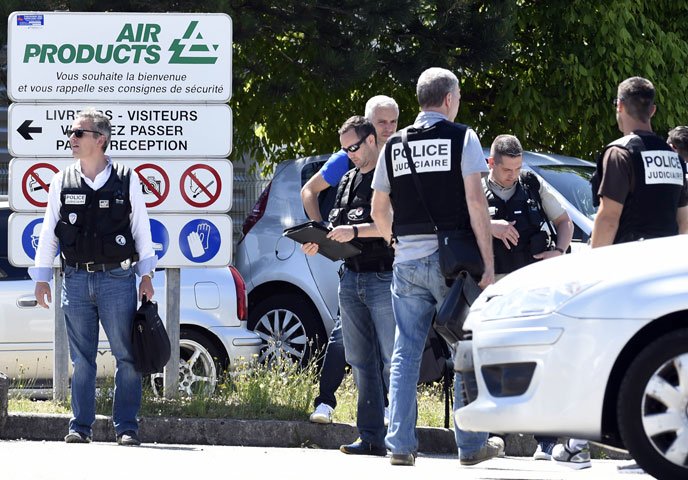 ---
SAINT-QUENTIN-FALLAVIER: At least one suspected militant launched a daylight raid on a gas factory in eastern France on Friday, pinning a decapitated head to the gates and injuring at least two others with explosive devices.

"The intent was without doubt to cause an explosion. It was a terrorist attack," said President Francois Hollande in Brussels, cutting short an EU summit to hold emergency meetings in the French capital.

Hollande said a vehicle driven at high speed by "one person, maybe accompanied by another" smashed into the factory, around 40 kilometres from Lyon, France's second largest city.

"At the time I am speaking, there is one dead and two injured," said a grim-faced Hollande, calling for "solidarity" for the victim, who was found with Arabic inscriptions on him.

The 35-year-old attacker, identified as Yacine Salhi, had been known to security services for a number of years but did not have a criminal record, Interior Minister Bernard Cazeneuve said. He was taken into custody and an anti-terrorist probe has been launched, Cazeneuve added.

The suspect's wife has been taken into police custody, a legal source said. Police are currently also holding another person who was seen driving up and down the gas site in a suspicious manner but has not been formally linked to the attack.


PHOTO: AFP

Cazeneuve said that the man killed in the attack was "an innocent victim who was ... abjectly decapitated," and that the victim was in the process of being identified.

The gruesome killing came nearly six months after the attacks in and around Paris that left 17 people dead and started with a shooting at satirical magazine Charlie Hebdo.

For months, Europe has been on high-alert for so-called "lone wolf" attacks that are very difficult to prevent after Islamists urged supporters to carry out assaults wherever they could.

"There was a decapitated body with inscriptions," said Hollande, although sources close to the enquiry said it was not clear whether the victim was transported to the site or whether the beheading was carried out at the factory site.

"A flag with Arabic writing on it was found at the scene," said Cazeneuve, and the text was being translated.

The suspect entered the factory owned by American group Air Products and set off several small explosive devices, sources close to the investigation said, with at least two people hurt in the assault. Police said it was unclear whether the attacker was acting alone, or had accomplices.

The attack occurred around 10am local time, according to local media, in the small town of Saint-Quentin-Fallavier, near Lyon.

"This is a small town and a large industrial zone. There's never been any concern in the region. We're all surprised. We're really in shock this morning," an employee at a nearby business told rolling news channel BMFTV.

Prime Minister Manuel Valls, who is on an official trip in South America, ordered security measures stepped up at all sensitive sites in the area.

'Link' to Salafist movement

The attacker had a "link" to the Salafist movement, Cazeneuve added, stressing that the investigation was in its early stages.

The suspect was investigated nine years ago for radicalisation and has links to the Salafist movement, Interior Minister Bernard Cazeneuve said.

"He was investigated in 2006 for radicalisation, but (the probe) was not renewed in 2008. He had no criminal record," Cazeneuve said.

"This individual has links with the Salafist movement, but had not been identified as having participated in activities of a terrorist nature," added the minister who rushed to the scene in eastern France.

Cazeneuve identified the suspect as Yacine Salhi who was known to have lived in the area of Lyon.

World leaders react

World leaders began reacting to the news only a few hours after the attack.

"I firmly condemn the attack carried out in Lyon. Barbarism will always be confronted by unity among democrats. #Spain with #France," Spanish Prime Minister Mariano Rajoy wrote in a message on Twitter.

German Foreign Minister Frank-Walter Steinmeier said his country stands united with France against "terror's blind hate" and in defence of "free society".

Steinmeier said he was appalled by the "shocking news of a heinous murder and an assault with several injured".

He called it an "act of terror and fanaticism which we condemn in the strongest terms".

Controversial spying law

Earlier this week, the country passed a controversial new spying law granting sweeping powers to snoop on citizens.

The new French law allows authorities to spy on the digital and mobile communications of anyone linked to a "terrorist" inquiry without prior authorisation from a judge, and forces Internet service providers and phone companies to give up data upon request.

Intelligence services will have the right to place cameras and recording devices in private dwellings and install "keylogger" devices that record every key stroke on a targeted computer in real time.

France has a high proportion of people that have gone to fight alongside militant groups in Iraq and Syria and has the biggest Muslim population in Europe.

Israel urges French Jews to flee after factory attack

An Israeli minister on Friday urged French Jews to flee to the Jewish state after the attack in France.

"I call on the Jews of France - come home! Anti-Semitism is rising, terror is increasing," immigration minister Zeev Elkin, a member of Prime Minister Benjamin Netanyahu's rightwing Likud party said in a statement.

"This is a national mission of the highest priority."

"The intent was without doubt to cause an explosion. It was a terrorist attack," said French President Francois Hollande in Brussels, cutting short an EU summit to chair emergency meetings in the French capital.

Netanyahu sparked controversy by encouraging French Jews to move to Israel in the wake of January's Paris attacks that left 17 dead, including four at a Jewish supermarket.