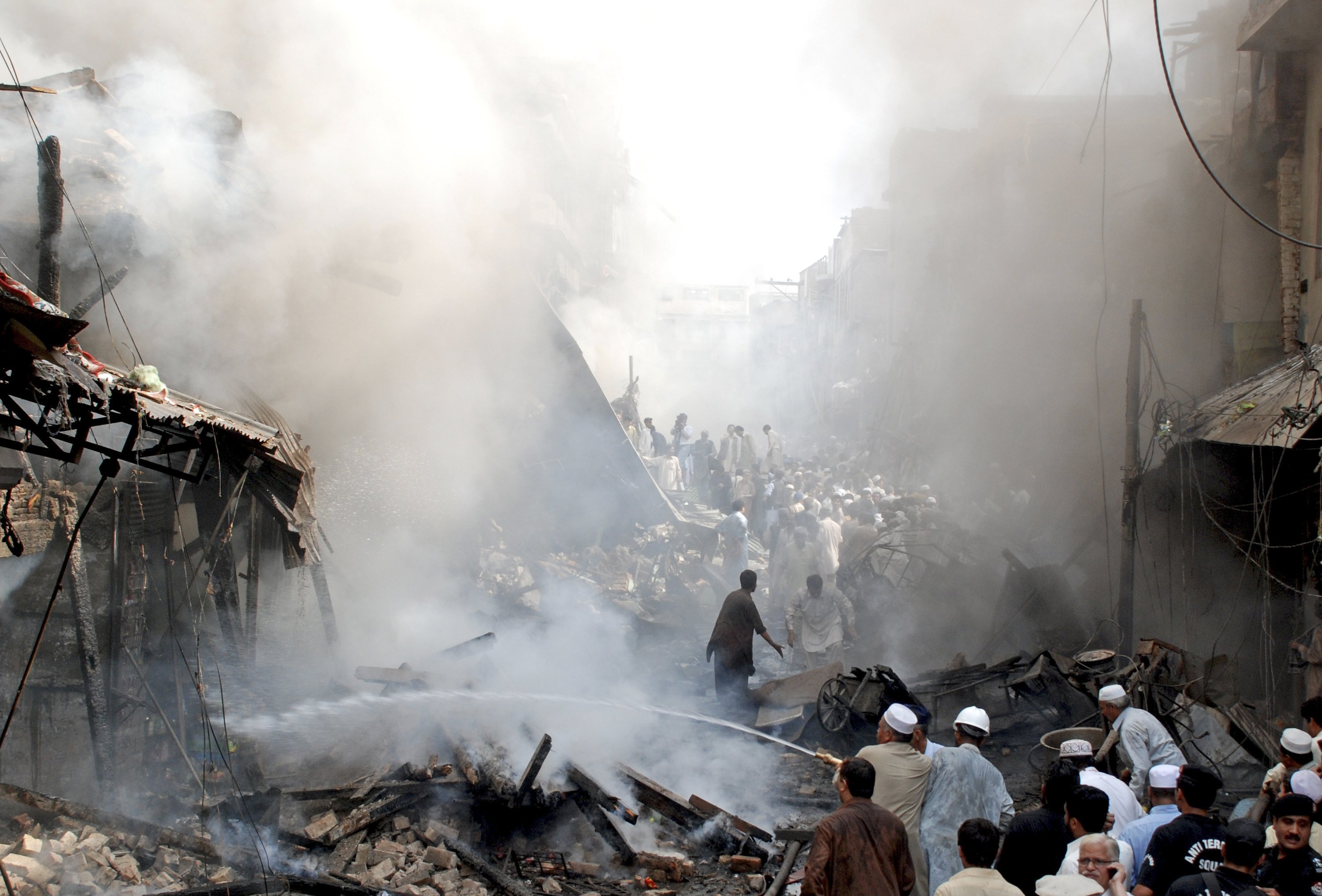 ---
ROME: A Pakistani accused of organising a 2009 bomb attack on a Peshawar market that killed more than 130 people, has been detained in Italy, police said Friday.

Siyar Khan, 36, who is also suspected of involvement in a potential plot against Pope Francis, was arrested on terrorism charges as he stepped off a flight from Islamabad to Rome on Thursday evening.

Read: Italian police target al Qaeda inspired group planning attack in Pakistan

In a statement, police said they suspected he had an "executive role" in what was one of the worst attacks in Pakistan's history - the October 28, 2009 bombing of the crowded Meena Bazaar which left 134 dead, including scores of women and children, and more than 200 others injured.

Authorities at the time blamed the Taliban, which denied carrying out the attack.

Italian anti-terrorism detectives believe Siyar Khan was part of a militant network based in Italy which was plotting terror attacks on Rome and possibly the Vatican to be carried by suicide bombers imported from Pakistan.


A handout photo released by the Italian Police shows Siyar Khan of Pakistan who is detained in Rome, police said on June 26, 2015. PHOTO: AFP

The suspect, who is legally resident in Italy, is accused of sheltering one of the would-be suicide bombers, who entered the country in March 2010 and is believed to be still at large.

The detention of Khan came two months after police on the island of Sardinia issued 18 arrest warrants as part of an operation against what they described as an Islamist terror cell led by two former bodyguards of Osama bin Laden.

The cell allegedly operated out of Olbia, a Sardinian town which has a small, long-standing Pakistani community.

Only nine of the suspects were actually arrested in April with the others mostly thought to have fled to Pakistan before the raids.

Read: Safoora attack: Judge sends three accused on physical remand

Mario Carta, one of detectives in charge of the investigation, told AFP the Italian authorities consider Siyar Khan to have been the right-hand man of Sultan Wali Khan, an Olbia shopkeeper arrested in April whom they suspect of having planned and financed the Peshawar attack.

Carta said that the would-be suicide bomber arrived in Italy in March 2010 with the intention of mounting an attack, "perhaps on Rome, even the Vatican cannot be ruled out."

"We have not been able to establish the identity of the kamikaze (bomber) ... but we believe he is still at large in Italy, most probably in the region of Olbia, which had become a nerve centre of jihadist activity," Carta told AFP.

The operation against the alleged cell followed a six-year investigation that began with a probe into an illegal immigration racket allegedly run from Sardinia.

Italy raises terror alert after attacks

Italy raised its terror alert level on Friday after deadly attacks in France, Tunisia and Kuwait.

"No country is without risk, we have raised the level of alert to re-sensitise those units charged with protecting sensitive places," Interior Minister Angelino Alfano said.

"Today has seen three attacks with dozens of dead carried out in three different places around the world, linked by one thing: violence and terror," he said.

Italy had raised its alert level to the third-highest in January, after the extremist attacks in Paris.

Alfano did not specify to what grade he had increased the level on Friday, after a massacre at a beach resort across the Mediterranean in Tunisia and a grisly attack in southeast France.

At least 37 people were killed and 36 wounded when a gunman opened fire on holidaymakers on a beach in the Tunisian resort town of Sousse.

Meanwhile in France, a businessman was found decapitated with Arabic inscriptions on his body at a gas factory near Lyon, while further afield in Kuwait, a suicide bombing at a mosque claimed by Islamic State militants killed 25.

Alfano shot down claims that would-be extremists may be entering Italy via migrant boats crossing the Mediterranean from Libya, hidden among the over 60,000 people who have washed up on the country's shores so far this year.

"We will win the terror challenge only if we do not allow ourselves to be conditioned by fear," he said, adding that "there is no proof that there has been a rise in crime as a consequence of the rise in immigration".