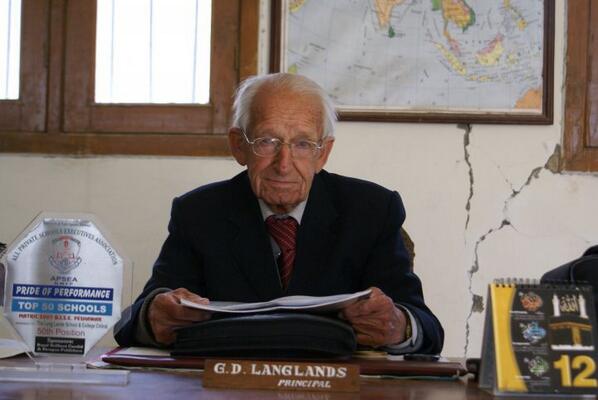 ---
In what appears to be a coup, Major Geoffrey Langlands has retaken reins of his school in Chitral, more than two years after having retired.

With the help of the local authorities, Langlands, 97, managed to unseat his successor Carey Schofield.

Schofield had left her home in London to become the Langland School and College's principal in 2013.

However, unhappy at the way the school was being run, Langlands moved swiftly to retake control of it when Schofield was visiting London. To make sure of the takeover, her visa was allegedly cancelled by Pakistani authorities, preventing her from returning.

"There is no question of her coming back, her visa is terminated and they are not going to renew it. That's it," Major Langlands told The Times.

"The local people don't want the lady to come back."

Langlands sought K-P cm's help to retake control?

Langlands had met with K-P Chief Minister Pervez Khattak earlier in June to discuss affairs of the school.

According to a press release of the meeting between Khattak and Langlands on June 13, the retired educator told his former pupil that the school had remained closed in May owing to management issues, urging that its 'dormant' board of governors should be dissolved to make the school functional in a professional and transparent manner.


CM @PervezKhattakCM meets renowned educationist @GDLanglands & Principal Cadet College Razmak, Col Tahir #KPKUpdates pic.twitter.com/oh2eK101Uh

— KPK Updates (@KPKUpdates) June 13, 2015


Khattak, who had studied under Langlands at Aitcheson College Lahore in 1960's, assured him of every possible support and help to revive the school under a new management board, directing the district administrtion of Chitral to consult with Major Langlands to 'save the insitution.'




In addition to Khattak, Langlands has also taught Pakistan Tehreek-e-Insaf (PTI) chief Imran Khan.

School's board of governors back Schofield

However the governing body of the school has given their "full and unconditional support" to Schofield.

In a statement, they wrote: "The Governing Body would like to place on record the courage and integrity that Miss Schofield has shown in tackling the problems of the school from the front.

"An individual of lesser integrity would have compromised and reached solutions which would have come at a terrible cost to the school.

"As a talented leader she has the capacity and the will to take the school to new heights."

Langlands School and College board of governors chairman Raza Kuli Khan Khattak had said that Schofield has replaced inefficient staffers and has further improved the overall standard of education at the college.

When she took over the post in 2013, Schofield had lavished praise on the Langland's contribution to education in Pakistan. She then dedicated herself to reviving the fee-paying structure of financially strapped institution.

He never really wanted to go: Schofield

Schofield, though, has since defended her record, insisting she had implemented much needed reforms.

"He never really wanted to go" she explained.

Things were not that good in the beginning and the relation between us deteriorated after I took over and made a very frank report to the governors. Major Langlands was staggered that anyone should tell the truth.

"He still believes he was running the best school in history."

This article originally appeared on The Telegraph
COMMENTS (5)
Comments are moderated and generally will be posted if they are on-topic and not abusive.
For more information, please see our Comments FAQ