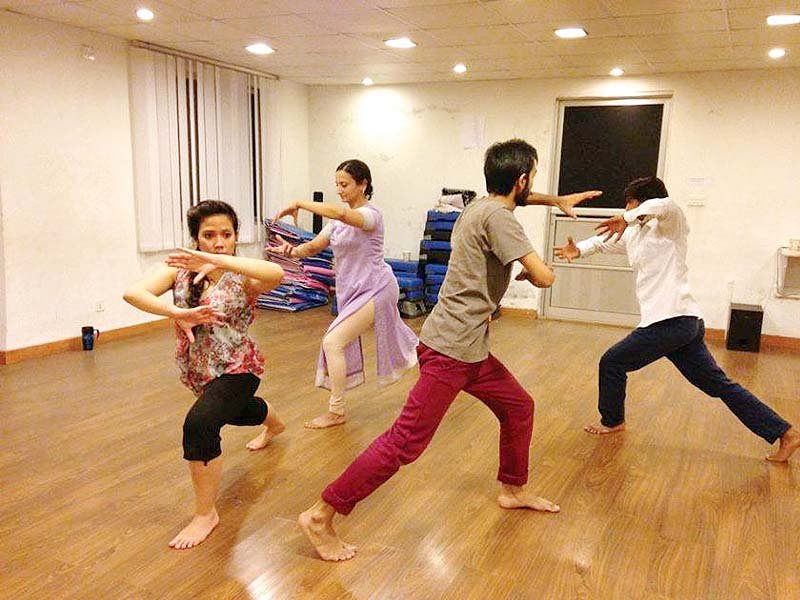 ---
ISLAMABAD:



Infinite flex, rip-roaring enthusiasm, big grin and a Dali-inspired moustache brings to mind the choreographer Faizan Ahab. An architect by degree and artist by nature, Ahab was eager to dance from an early age, but it wasn't until people around him pushed him that he took his hobby seriously.




Although dance classes were being offered in Islamabad for quite some time, Ahab launched the capital's first dance academy in 2009. Faizan Ahab Choreography and Design Solutions (FACDS) offers complete packages and crew services and has become the one-stop shop for all festive occasions in Islamabad. "It all started when I was contacted by someone who had seen me train my friends for a dance session at a wedding, to teach a bunch of strangers for another wedding and then it never stopped".




Ahab, who mainly teaches Bollywood style, contemporary dance and zumba fitness, finds satisfaction in each step of his profession. He feels that dancing is considered a forbidden fruit in Pakistan because people haven't tried to question the convictions or separate the vice from the notion. However, people's perceptions, especially the newer generations', is definitely changing.

"A lot of people want to dance, but can't, either because they don't have a platform or they aren't allowed and I get to be the person that they can come to, which is very rewarding," said Ahab.

Studies suggest that dancing can help you lose weight, stay flexible, reduce stress and make friends. Above all, it enhances your memory and keeps you composed. However, the most important of its pros would be that it entertains and makes you happy. The spirit of dancing, especially fast paced hip-hop or contemporary dance is exhilarating and contagious.




Ahab, who is mostly self-taught, has had personal sessions with Brice Mousset of Oui Danse, famed for contemporary dance, and attended a Bollywood dance workshop at the Delhi Dance Academy. Apart from that he learnt ballroom dance at Dance Studios JLT in Dubai and has also learnt Bharatanatyam from Tehreema Mitha.

Although Ahab has received great appreciation from people both locally and internationally, there's a darker side to his profession. He has received death threats from different sects of the society, proclaiming that dance is unacceptable and threatening him to stop promoting the craft. Ahab chooses to turn a blind eye to all this distraction and continues doing what he feels right within his soul.

"I put to practice the phrase that I learnt at art school: think out of the box. I don't let failure disappoint me. The little things  in life excite me and I tend to believe I'm always happy. I'm also eccentric and spontaneous with the things I do; it often gives the results that are 'out of the box'."

Published in The Express Tribune, June 26th, 2015.

Like Life & Style on Facebook, follow @ETLifeandStyle on Twitter for the latest in fashion, gossip and entertainment.