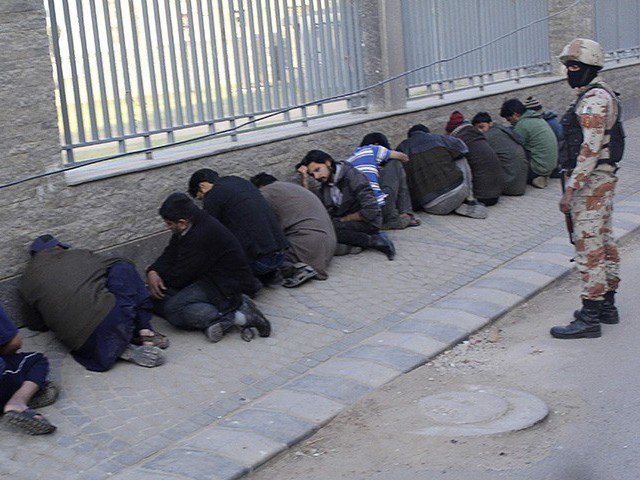 ---
ISLAMABAD: Action will be taken against the Muttahida Qaumi Movement (MQM) if the BBC's allegations that the party received funds and training from India are authenticated, Foreign Secretary Aizaz Ahmed Chaudhry said on Thursday.

"Institutions relating to national security are handling this matter and are collecting the facts," he said during a briefing to Senate's Standing Committee on Foreign Affairs, Express News reported.

Read: Karachi unrest: MQM received funds, training from India, BBC

Aizaz's statement comes a day after a BBC report revealed that the Muttahida Qaumi Movement (MQM) was receiving training and funding from India.

Chaudhry said action could be taken only after the allegations leveled against the political party are authenticated, "Pakistan reserves the right to raise this matter on every international forum once we have gathered credible information."

"It is time the government should move against him [Altaf Hussain] in the light of the BBC report on the MQM-India nexus," said a source in the security establishment.

Read: Political reaction: MQM must prove its innocence, says Khawaja Asif

Deterrence against India 

Further, he said, Pakistan's nuclear weapons are only there to respond to threats from its eastern border, referring to India.

"Our atomic weapons are only for deterrence as we perceive threats from India," Secretary Foreign Affairs Aizaz Ahmed Chaudhry told a Senate Panel.

The panel discussed developments regarding the US, Pakistan Working Group on Security, Strategic Stability and Proliferation.

Read: Pakistan guns for peace amid Indian tirade

Pakistan has serious concerns over India and the United States recent deal over civil nuclear technology programme, he said.

"It has created an imbalance in the region. Pakistan needs this programme as other countries need it," Aizaz informed lawmakers.

Regarding proliferation of nuclear technology, the foreign secretary revealed there were 22 countries whose nationals were involved in this notorious business.

"AQ Khan's involvement in this business is history now," he added.

Further, Pakistan Peoples Party Senator Farhatullah Babar quoting a chapter from former president Pervez Musharraf's book revealed 18 tonnes of such material was shipped to Libya and 11 tonnes to Iran in the late nineties and early 2000s.

Chaudhry also took Indian Prime Minister Narendra Modi to task for his statement in Bangladesh, wherein he accused Pakistan of promoting terrorism and said it was a serious violation of the United Nations charter. "Indian interference is a violation of international laws," he said.

Pakistan has recently accused India's premier intelligence agency, the Research and Analysis Wing (RAW), of whipping up terrorism in the country.

Relations between Pakistan and India have been tense since last several weeks due to a series of controversial statements given by the Indian political leadership. In one such statement, the Indian defence minister blatantly admitted that his country would use terrorists to neutralise terrorists. His remarks implied that India was using certain militant groups to foment violence in Pakistan.

Read: Fighting terror with terrorists: Indian defence minister outlines strategy for new 'proxy' war

More recently, Indian Prime Minister Narendra Modi acknowledged that his country played a part in the events of 1971 that led to the breakup of Pakistan. The latest BBC revelations will certainly sour the already tense relations between the two nuclear-armed neighbours.

Afghan peace process

Meanwhile, the secretary claimed that since the military operation in North Waziristan, there had been a drop in terrorism-related incidents.

Regarding the peace process in neighbouring Afghanistan, the foreign secretary said Pakistan is ready to extend all-out support for talks that are going to be held between the Afghan government and the Taliban.

"Pakistan reiterates its stance of wishing to see the formation of a well-established and strong government in Afghanistan," he said.
COMMENTS (12)
Comments are moderated and generally will be posted if they are on-topic and not abusive.
For more information, please see our Comments FAQ