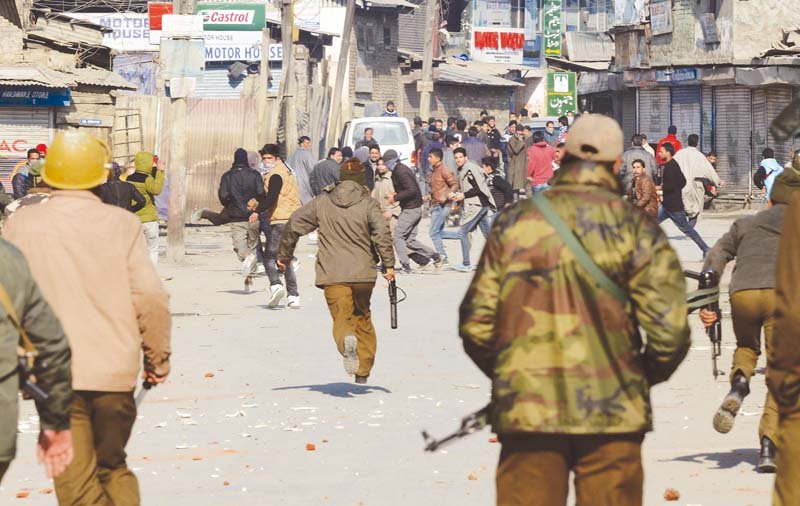 ---
It was an overcast day in Srinagar, Indian Kashmir, on May 22. Feroz*, a 38-year-old fruit vendor in the Rajouri Kadal neighbourhood was wrapping up business for the day when he spotted Indian Central Reserve Police Force (CRPF) vehicles crossing the main square. Feroz paid them no heed; the security officials were a familiar sight. "I could sense that the situation was possibly volatile, but I didn't feel nervous or scared," recalls Feroz. "People living here are used to feeling like this, and I am no exception." 


The boy on the bicycle

Feroz didn't know these men were on alert for young boys who had pelted their bunker with stones in the neighbouring Kawadara area. As Feroz locked up, CRPF men circled the alley leading towards his shop. Across the street, an 18-year-old student named Sajad* was riding his bike, heading home from his part-time job when the CRPF men spotted him. Feroz watched as the men turned their guns towards Sajad and, in a split second, fired a round of pellets at him.

Read: Funeral held for Pakistani prisoner killed in Indian Kashmir

The boy was struck in his left eye, neck, head and arm. The last thing he remembers seeing is the CRPF men retreating, as men in the neighbourhood swooped down on him and took him to a nearby hospital.

At Sher-i-Kashmir Institute of Medical Sciences (SKIMS), doctors plucked out all visible pellets from Sajad's body. A few hours later, Sajad slipped out of the hospital, choosing to go home even though he still had pellets embedded on the left side of his head. "I had just been riding my bike when this happened, and I wasn't expecting it," he says. "I might have been in pain, but I thought I would be safest at home." Even as he says the pain from his injuries is "impossible to describe", his fear of being arrested in the hospital outweighed his discomfort. With his eye badly injured by the pellets, Sajad waited in silence at his home, spending his days in darkness, too scared to go back to the doctors.





Sixteen-year-old Hamid's injuries from being shot at with a pellet gun are extensive. PHOTO COURTESY: SHAHID TANTRAY




Crowd control

Pellets are small iron ball bearings that are fired at high velocity. According to Amnesty International India, the pellet gun cartridges used in Indian Kashmir contain 400 to 500 plastic pellets. When fired at short range, a single shot can pierce the target's body with hundreds of pellets.

Read: Killed in Srinagar: Funeral prayer of blast victim offered in AJK

Inspector General of Jammu and Kashmir police Javaid Gillani told Amnesty International India that state police are instructed to use pellet guns when protests go 'out of control'. "There is a standard operating procedure that is followed in such situations and police fire the pellet guns from a safe distance," he states. However, he concedes that the pellets do not have a predictable trajectory.




The Indian government insists that pellet guns — resembling shot guns and often used while hunting animals — are 'non-lethal' weapons. However, experts maintain that pellets can be lethal and cause permanent damage. According to a study by SKIMS, the leading hospital in Srinagar, the guns were extensively used to quell anti-India protests in 2010; at the time, pellet injuries killed at least six people and left 198 injured in a span of just four months. The study found that five of these injured people lost their eyesight — the youngest victim was just six years old, while the oldest was aged 54. The casualties have racked up since: on August 19, 2010, Mudasir Hajam was the first of the six people killed. He died when pellets damaged his lower abdomen. Since March 2010 to October 2013, SKIMS dealt with 36 eye injuries caused by pellet guns. And from January to June 2014, 15 patients with serious eye injuries caused by pellets were admitted to hospitals across the valley.




On May 25 this year, The Hindu newspaper reported that Hamid Nazir Bhat, a 16-year-old boy, lost vision in his right eye after he was shot at by police in his village, Palhalan, in north Kashmir. Doctors say at least 100 pellets hit Hamid's head and eyes; two pellets remain in his right eye, causing vitreous haemorrhage, a leakage of blood in the space between the lens and the retina.

Read: Modi to spend INR350m to mark 50th anniversary of 1965 Indo-Pak war

The police allege that Hamid was taking part in a protest on the 25th death anniversary of leader Mirwaiz Molvi Farooq; his family said he was going for tuitions. "Even if I have to sell all my land to get my son treated, I'll do it," his distraught father Nazir Ahmad says. "Our boys go out for tuition and their blood is spilled on the streets. How is this justice?" Doctors said that several patients admitted on the same day have over 100 pellets lodged in their skulls as they were shot at from a close range of less than two feet. The guns were aimed directly at their faces when the shots were fired.




Doctors at SKIMS and Shri Maharaja Hari Singh Hospital told The Hindu that in the five years since the 2010 protests, an estimated 700 people have been left disabled by pellet gun injuries. Since many victims, like Sajad, choose to leave hospitals before receiving proper treatment for fear of being arrested or harassed and media coverage, the number of casualties may be even higher, doctors say. A hospital administrator explains, "Many of our patients run away from the hospital with pellets and pus in their eyes because police spies note down their details, arrest them and often extort money." A senior ophthalmologist in Srinagar Sheikh Sajad adds, "Around 70% of those injured lose their sight in one eye, and at times in both. While they haven't been killed, their lives are ruined forever."

Lethal combat





A CT scan shows pellets embedded in an injured victim's face and head. PHOTO COURTESY:UMER BEIGH




According to police officers, pellets are ranked from grade five to grade 12 — with five being the largest and fastest pellets with the widest range. Last month The Hindu reported that officials have been ordered to use the number nine pellet for crowd control, as it does not cause lasting damage. However, the instructions are not followed and in many villages, police officials choose to use number six or seven pellets.

Read: Lakhvi's release: New Delhi trying to politicise UN sanctions body, says FO

"The police have a duty to protect lives, provide safety and prevent violent crime. However, in carrying out this duty they must use non-violent means as far as possible," says Shemeer Babu, Programmes Director at Amnesty International India. "When the use of force is unavoidable because of compelling reasons, it should be only what is strictly necessary and to the extent required." He adds, "When the police are trying to contain violent persons, it is important that they focus any use of force accurately at those individuals. However, pellet guns cannot ensure well-targeted shots and risk causing serious injury to bystanders or other protesters not engaging in violence. These risks are almost impossible to control." Babu, like other international observers, is unequivocally against the use of these guns. "Pellet guns should have no place in law enforcement," he says firmly.




According to one official who wished to remain unnamed, "Pellet guns have to be used from a range of 500 feet or more. Any closer than that, and the pellets become a lethal weapon."

Doctors say patients sustaining pellet injuries are hard to cure. "Pellets often pierce the eyeball, causing blindness, or even death if the pellet damages a soft spot on the back of the head or in the chest," explains Dr Nisar ul Haq, the president of Doctors Association Kashmir. Former head of the ophthalmology department at Kashmir Medical College Dr Bashir Ahmad Bhat says that the chance of retaining normal eyesight after a pellet hits your eye is rare. "It is the rarest of cases where you wouldn't lose your eyesight," he says. He adds that even the most modern medical techniques can only remove the pellets — the damage, however, remains forever.





Radiography of a victim's pelvis showing the location of pellets. PHOTO COURTESY:UMER BEIGH




Just a mile away from Rajouri Kadal, where Hamid was shot, 17-year-old Danish Altaf sits in his room, struggling to focus his gaze. Danish was shot by CRPF men on the street a year ago during protests against human rights violations in Gaza. Nearly 150 pellets have left their mark on his body. "We have sold almost everything we could in order to afford the surgeries Danish needed," his mother says. Danish's treatment has cost the family INR300,000 (Rs480,923) to date. The family is not well-off and Danish would supplement his father's earnings through a job as a wedding decorator. His parents are afraid to talk to anyone about the incident, as they fear police action.

Condemnations and calls for change: the government's response

As Hamid lay in his hospital bed, his case was taken up by Junior Health Minister and Jammu and Kashmir Peoples Democratic Party (PDP) leader Aasiya Naqash. "There should be a total ban on the use of pellet guns," Naqash said in a statement to the media in May. "We always spoke against it (pellet guns) when we were in the opposition and held protests on the issue. There can't be any argument (over use of pellet guns)," she said, demanding an inquiry into the incident that has left Hamid blinded in one eye.

Read: Altaf refutes BBC's 'Raw agent' allegations against MQM

This is not the first time the PDP has broached the subject. In 2014, the party's president Mehbooba Mufti demanded an 'official ban' on use of pellets as a means of crowd control, staging a walkout from the state's legislative assembly in protest against the use of pellet guns. However, this time around, the party says it will push for tangible change. "There will be a change for good and it will happen with the passage of time," says PDP's chief spokesman Mehboob Beg, when asked about  the party's stance on the use of pellet guns.





An X-ray of the chest shows pellets embedded widely in the shoulder, arm and chest of a victim. PHOTO COURTESY:UMER BEIGH




Meanwhile, senior minister and PDP leader Syed Altaf Bukhari says the government would "review the use of pellet guns soon." He adds, "The issue has been bothering us for a long time now." State Minister for Education Naeem Akhtar is not optimistic about such reviews. "We hope the use of pellet guns will be curbed soon. But the police have their own concerns and we cannot really force them to stop using pellets against protestors."

*Names have been changed to protect privacy.

Umer Beigh is a freelance journalist based in Indian-administered Kashmir. He tweets @omibeigh

Published in The Express Tribune, Sunday Magazine, June 28th, 2015.
COMMENTS (7)
Comments are moderated and generally will be posted if they are on-topic and not abusive.
For more information, please see our Comments FAQ