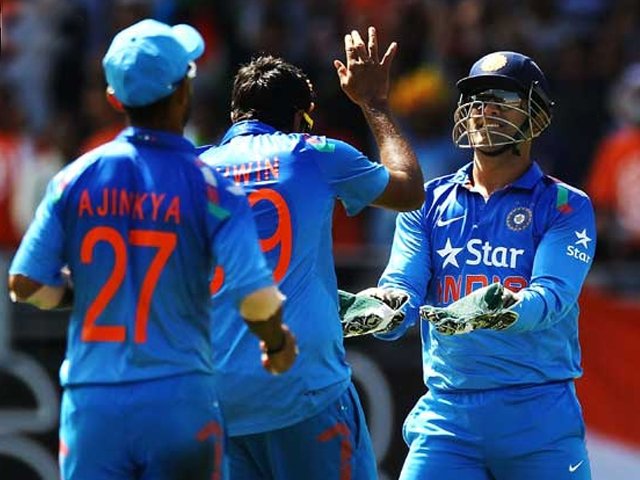 ---
DHAKA: Indian all-rounder Ravichandran Ashwin on Tuesday defended under-fire skipper Mahendra Singh Dhoni, who says he is willing to step aside as captain following their first ever one-day series defeat to Bangladesh.

Ashwin's said Dhoni was not to blame for India's embarrassing losses in the first two matches of the series to minnows Bangladesh, saying "we failed as a group".

India suffered a thumping six-wicket loss to Bangladesh on Sunday in Dhaka, sealing the international series for the hosts.

"He (Dhoni) is a legend of Indian cricket. He has done so much for the nation," Ashwin said at a press conference in Dhaka ahead of the third and final match on Wednesday.

"You can't blame him for the whole team's performance. That's not fair. We have failed as a group. We need to grow up as a group."

Ashwin, Dhoni's team-mate in the Indian Premier League franchise Chennai Super Kings, said the team was fully behind its captain.

"As far as I am concerned it's like an army, if you don't go behind your leader then you are definitely going to get shot."

Dhoni, who turns 34 next month and is regarded as India's best limited-overs player, has won a string of trophies for India since taking the helm in 2007.

But the losses in Bangladesh again raised questions about his recent form as captain after India's semi-final exit from the World Cup in Australia and New Zealand earlier this year.

The wicket keeper-batsman quit Test captaincy midway through the Australia tour in December and was replaced by batsman Virat Kohli.

"If it is a justifiable thing that if you remove me and Indian cricket will start doing really well, and if I am the reason for all the bad that is happening to Indian cricket, definitely I would love to step away and play as a player," Dhoni said after Sunday's loss.
COMMENTS
Comments are moderated and generally will be posted if they are on-topic and not abusive.
For more information, please see our Comments FAQ