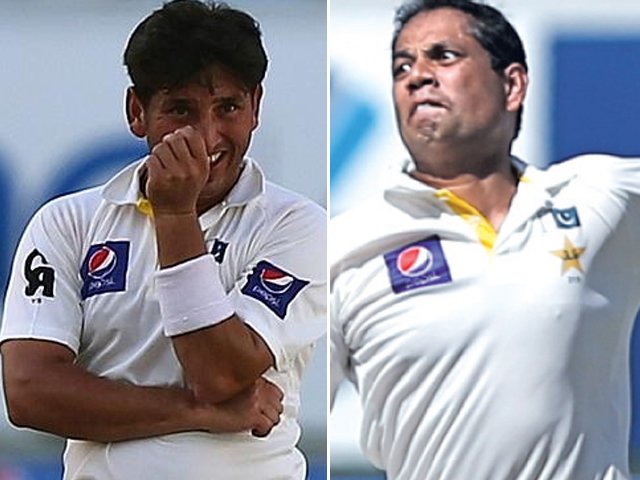 ---
KARACHI: Sri Lankan captain Angelo Mathews said leg-spinner Yasir Shah and left-arm spinner Zulfiqar Babar were able to exploit the Galle pitch more than the Islanders' premier spinner Rangana Herath.

Galle has been a graveyard of defeats for Pakistan with Herath playing an important role in each of the wins but this time around Misbah's revelation that they had a plan to break the left-arm spinner's code became true.

"I admit that our spinners were not as effective as their spinners on this track - where it was turning from day one," said Mathews, ESPNcricinfo reported.

"We needed our spinners to fire and fire quickly, but they didn't. I would say Rangana was not as effective as Yasir Shah or Babar was for them. I wouldn't call it being rusty, but unfortunately he couldn't make an impact in this game.

"We're playing a Test match after a few months, and Herath is coming back after an injury. He's having a lot of niggles. He knows he hasn't done well in this game, but hopefully he can bounce back quickly."

Read: Misbahul Haq impressed by youngsters' performances

Mathews appreciated Pakistan's preparation to play against Herath.

"They played Rangana well - very positively," said Mathews.

"They know that if you give Rangana wickets it's not easy. He continues to take wickets."

Sri Lankan captain further said that important innings from the tail-enders hurt the Islanders more than Sarfraz Ahmed's scintillating 96-run knock.

"I think Shafiq and Sarfraz's partnership was crucial, but still what made the difference was Babar and Shafiq's partnership," said Mathews.

"That made a massive difference to the game. They were in total control and we were put under lot of pressure. After having them 118 for 5, it was disappointing that they scored another 340 runs. We can't let a number 10 come and get a fifty on this track."

Read: Former Pakistan greats hail record-breaking Galle Test win

"It happened as well in New Zealand where we had the game in our hands and we dropped a catch and it slipped away. Here it was a chanceless innings by Asad, Sarfraz and Babar.

"No matter where we play it's tough to lose. If you take our recent history, we've only recently lost to South Africa in Galle, so we've historically played well here. On this occasion, we bowled and batted poorly - we accept that. Our fielding was good, but the other disciplines weren't there," added Mathews.