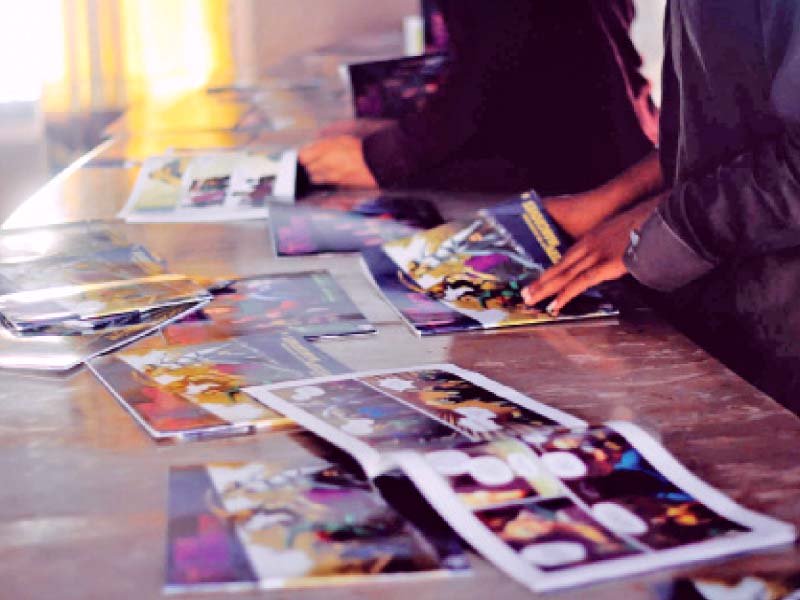 ---
KARACHI: Every month, young inmates at Karachi's juvenile jail will be treated to free comic books and entertaining storytelling sessions.

Imran Azhar, who plans to do this, hopes that the children at the jail will learn about cultural and social values and draw inspiration from his comic book series, titled 'Team Muhafiz'. "I really hope that the children get inspired by our local heroes," said Azhar. "They are the most affected children and have seen things at an early age that others have not."

Azhar, who had a soft launch of his comic books at a government school, also had one at the juvenile jail this week. The comics are set to be officially launched on Eid.

What is Team Muhafiz?

Team Muhafiz is a comic series created and penned down by Azhar, who owns a company named Azcorp Entertainment Pakistan. The comic is based on a fictional story of seven teenagers, including four girls, who come from different religious and ethnic backgrounds and fight social evils.

"I wanted to show a diverse and positive Pakistan where girls in hijab can play sports," explained Azhar, saying that the heroes belong to different areas such as Lahore and Peshawar and, along with Muslims, come from religious communities such as those of the Hindus and the Christians. They work as volunteers for a youth centre and encourage under-privileged children to take up activities such as hockey, football, cricket, dance and music. Then, like The Secret Seven and The Famous Five child detectives, they would fight social evils and send out positive messages to the reader.

Why comics

Azhar, who returned to Pakistan last year after living abroad for 20 years, felt that the country had been hijacked by extremists. While he had been visiting Karachi regularly, he saw that it was not the same city that he once lived in. "I felt I needed to give out a positive picture of the country and had to play my part," he said. "I wanted to make and create such stories."

Being a Batman fan himself, Azhar also realised that there were no local comics. While he is the creator and the writer, he has illustrators working for him.

The jail connection

Azhar said that he feels deeply moved by the inmates at the juvenile jail and, therefore, plans to launch a comic issue every month at the prison before it comes out for the public.

Sharing details of the soft launch where the first issue, titled 'Team Muhafiz & the Mystery of the Disappearing Mangroves', was read out to the inmates, he said that the inmates had a 'blast' and later planted 30 fruit trees in the prison.

Talking about another issue, in which Team Muhafiz tackles the issue of drugs being sold to children, Azhar lamented how children living in prisons are drug addicts and forced to indulge in crimes.

The comic book, aimed to be between 25 and 30 pages, will be available online as well as at bookstores.

Published in The Express Tribune, June 21st, 2015.
COMMENTS
Comments are moderated and generally will be posted if they are on-topic and not abusive.
For more information, please see our Comments FAQ