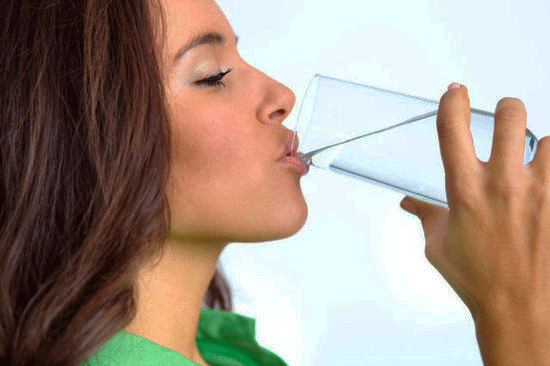 ---
The answer is NO! If you drink water more than the recommended six to eight glasses per day, you can develop a hazardous condition called hyponatremia, or water intoxication. 
In normal conditions, the body maintains a perfect fluid balance. When you lose fluids through sweating your body quickly responds with the feeling of thirst. However, if you drink more water than needed your body will excrete the excess through urination.
PHOTO: THEINQUIRER
You should, therefore, consume enough fluid that your body is able to get rid of the surplus and dilute sodium levels as well. Then osmosis draws water from the blood into your body cells to equalize sodium levels making the cells swell. This leads to hyponatremia and if your cells start to bloating in the brain, it can be a dangerous sign.
Approximately 20 years ago, hyponatremia was an uncommon condition among healthy people, but it has caused the death of several marathon runners. These marathon runners did not sweat much, but drank plenty of water, hoping to remain well hydrated.
PHOTO: WINNIPEGFREEPRESS
Thus, today knowledgeable coaches and exercise experts advice athletes to drink water when they are thirsty.
Most importantly you should listen to your body's signals because thirst is an indicator of when and how much you should drink.
COMMENTS (2)
Comments are moderated and generally will be posted if they are on-topic and not abusive.
For more information, please see our Comments FAQ