 ---
KARACHI: The Pakistan Cricket Board (PCB) on Thursday released banned former captain Salman Butt's confession statement in which he repents his actions of wrongdoing in cricket.

He starts the statement by apologising to all the people who have been hurt or disgraced due to his actions.

In the pointers he clearly admits being guilty of being a party in bowling of two deliberate no balls in the Lord's Test match.

He then 'unreservedly' and 'unconditionally' apologises for the harm his actions have done to the image of PCB and also Pakistan as a nation.

Read: PCB accepts Salman Butt's confession on spot-fixing

He then urges impending cricketers to not indulge in such activities as it 'damages the sport of cricket'.

Salman then forwards his availability for rehabilitation and for public education to create awareness about the adverse impacts of partaking in nefarious cricket activities.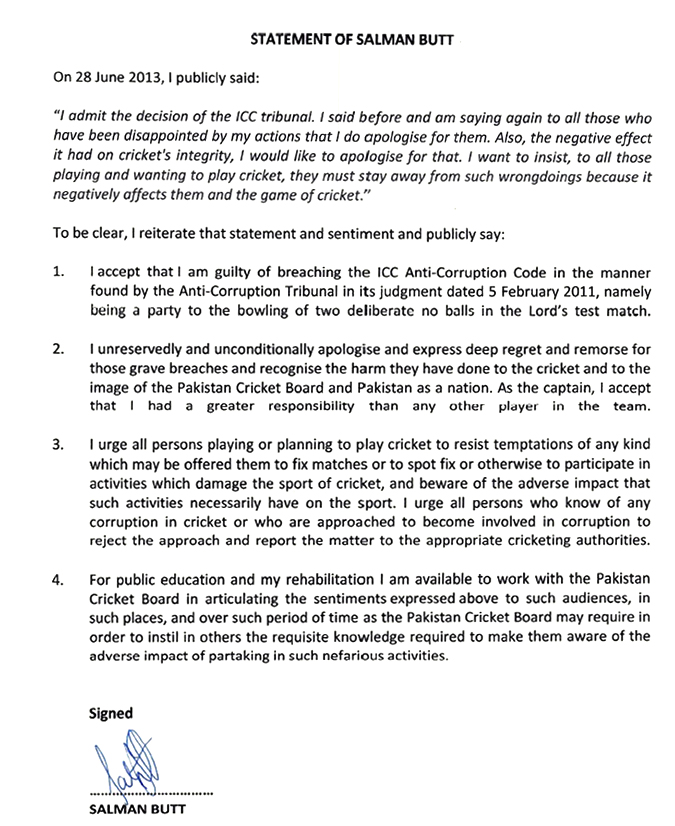 COMMENTS (7)
Comments are moderated and generally will be posted if they are on-topic and not abusive.
For more information, please see our Comments FAQ