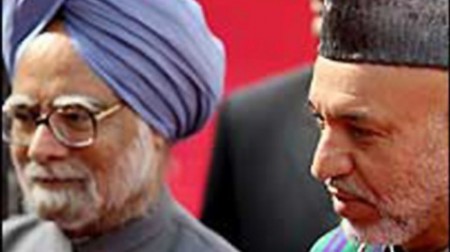 ---
NEW DEHLI: Indian Prime Minister Manmohan Singh and Afghan President Hamid Karzai were set to meet in New Delhi on Monday to discuss a relationship seen as key to regional stability.

The talks come two months after nine Indians were killed in a suicide attack in Kabul that Indian officials blame on Pakistan-based militant group Lashkar-e-Taiba (LeT). India is heavily involved in reconstruction and aid efforts in Afghanistan and has provided more than a billion dollars in assistance since the fall of the Islamist Taliban regime in 2001.

Officials in New Delhi say groups such as the LeT have the tacit support of Pakistan's military and have accused the militants of mounting attacks against Indians in Kabul as part of a South Asia "proxy war".

Singh is expected to reiterate New Delhi's concern for Indians in Afghanistan to Karzai, who is visiting for two days before heading to a meeting of South Asian leaders in Bhutan. The prime minister is also likely to caution Karzai against talks with the Taliban -- a policy being pushed by many within the international coalition engaged in Afghanistan.

India's foreign ministry said on Saturday that Singh hoped the meeting would strengthen the nations' "strategic partnership". Karzai's visit would be an "opportunity for India to express its firm commitment and support to the government and people of Afghanistan," it added.

India's embassy in Kabul was bombed last October and in July 2008, in what some observers see as a deliberate campaign to force India to pull out. New Delhi has poured money into Afghanistan and become an influential partner of the government in Kabul -- to the growing concern of Islamabad.

India also blames the LeT for the Mumbai attacks in November 2008 that left 166 people dead and worsened already acrimonious ties with arch-rival and neighbour Pakistan.

The LeT and the Pakistani government deny involvement. India, which has repeatedly urged the global community to "stay the course" in Afghanistan, is worried that Pakistan and the Taliban could assume key roles in the country once foreign troops begin their pull-out. Some 4,000 Indians are building roads, sanitation projects and power lines in Afghanistan and India is also building the new Afghan parliament.
COMMENTS
Comments are moderated and generally will be posted if they are on-topic and not abusive.
For more information, please see our Comments FAQ