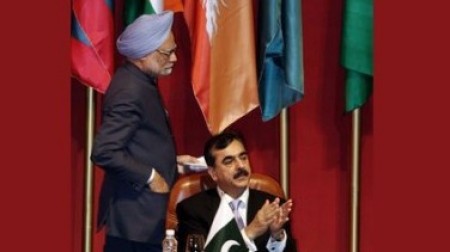 ---
THIMPU: A familiar game of "will they-won't they" centred on a possible meeting between the leaders of India and Pakistan looks set to overshadow a summit of South Asian nations in Bhutan this week.

The summit is supposed to culminate in a joint declaration entitled "Towards a Green and Happy South Asia", but with the region's bitterest rivals barely on speaking terms, there is unlikely to be much cheer to spread around. Indian Prime Minister Manmohan Singh and Pakistani counterpart Yousuf Raza Gilani will both be attending the two-day gathering of the eight-nation South Asian Association for Regional Cooperation (SAARC), which begins Wednesday.

India broke off all dialogue with Pakistan after the 2008 Mumbai attacks, which New Delhi blamed on Pakistan-based militants. A highly tentative resumption occurred in February when their foreign secretaries met in the Indian capital, but talks ended with India insisting that full-fledged dialogue would require further steps by Pakistan to bring those responsible for the Mumbai carnage to justice.

Both countries have been coy about the possibility of an official meeting on the sidelines of the SAARC summit. In a statement on Friday, the Pakistani foreign ministry said Gilani would "hold bilateral meetings with his counterparts" but made no specific mention of Singh.

Indian foreign secretary Nirupama Rao left things equally open-ended when questioned by reporters in Delhi. "As of now there is no such meeting," Rao said, before adding: "I don't believe in making forecasts. I would say you should wait and let's see." The two prime ministers last came face-to-face at a 47-nation summit on nuclear security in Washington, where they shook hands at a dinner reception and exchanged little more than pleasantries.

SAARC was formed in 1985 with the aim of encouraging development and raising the living standards of poverty-stricken people in a region home to one-fifth of humanity. But 25 years and 15 summits later, the group has achieved very little -- a failing largely attributed to the volatile relations between nuclear-armed India and Pakistan.

The other members are Afghanistan, Bangladesh, Bhutan, Maldives, Nepal and Sri Lanka. "SAARC still has great potential," said Kalim Bahadur, a retired professor of South Asian Studies from Delhi's Jawaharlal Nehru University. "But because of the India-Pakistan tensions and conflicts, it's just never been able to fulfil the aspirations of its founders."

Delhi-based strategic analyst CU Bhaskar, said it was almost inconceivable that there would be "any significant contact" between the two prime ministers. "But then the issue of India-Pakistan talks does have a tendency to overshadow SAARC, and this summit will be no different," Bhaskar said.

The situation is not helped by the fact that India and Pakistan are locked in a struggle for influence in Afghanistan, which became a SAARC member in 2007, adding a conflict involving the United States to the group's other headaches. Afghan President Hamid Karzai will meet Singh in New Delhi ahead of the summit, and the Indian prime minister is expected to reiterate concerns over attacks on Indian targets in Afghanistan blamed by India on Pakistan-based militants.

For SAARC's smaller members, the India-Pakistan dynamic simply gets in the way of their efforts to leverage the group's potential in a host of other areas, including trade, development, water-sharing and environmental controls. Bhutan is hosting the summit for the very first time and the tiny Himalayan kingdom wants to focus on climate change, which is of special concern to SAARC members like Bangladesh and The Maldives, both threatened by rising sea levels.

"We will be pushing for a South Asian Climate change deal," Bangladeshi foreign ministry spokeswoman Saida Tasnim Mona told AFP. "We need to form a common front to fight the effects of climate change," she said.