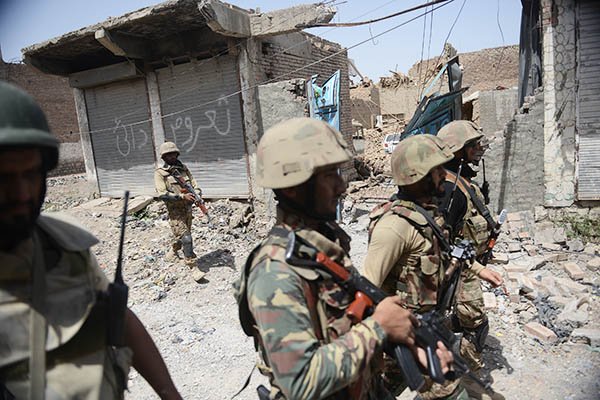 ---
Operation Zarb-e-Azb is a-year-old, and on June 14, Prime Minister Nawaz Sharif rightly congratulated the armed forces for their successes militarily and condoled their losses. Defence Minister Khawaja Asif said that 2015 was "a year of victory" and the operation itself a "manifestation of the resolve to root out terrorism in the country". Whilst we warmly approve of the plaudits given to the military, we also advise caution in taking politicians at their word when it comes to "The fight against terrorism".




There is little doubt that considerable gains have been derived from Operation Zarb-e-Azb. The number of terrorist incidents across the country has dropped and suicide bombings are also down. There are more children being vaccinated against polio and the numbers of new polio cases have shown a marked decline in 2015 over a similar period last year. There has been a limited repatriation of internally displaced persons in the tribal areas and a number of strongholds and caches of material used by militants have been destroyed. The body count is substantial — 2,763 militants as against 347 officers and other ranks dead, with figures for the wounded unavailable. A heavy price.

The operation is being viewed so positively that there is now talk of moving to battle terrorists in urban areas, which is a very different kettle of warfare when compared with fighting in depopulated mountain areas. For example, the use of air strikes has been a key factor in military success, and long guns have been used for bombardment and mortars for shorter range work. Surveillance drones have also been increasingly employed. None of these are an option when operating in the cities, which require a completely different form of warfare. Urban warfare is fought at very close range, often hand-to-hand and tends to carry a higher casualty coefficient than does warfare in an area where the chances of collateral damage have been minimised.

The question of how the urban populace would view the military operating in the cities also hangs in the air. Given the political 'sensitivities' of some of the cities that are potential battlegrounds — literally — in the future, this very important question needs an answer sooner rather than later.

Cities are political animals. Mountainous terrains that are thinly populated and anyway barred from external reporting or scrutiny are not. If the military was to pursue operations in urban areas, it would be reliant on the local police and other security services for human intelligence, not having had the time to build its own networks. Such levels of scrutiny are anathema to the military — and not just the military of Pakistan but militaries the world over. There are certain limitations that the authorities would have to face in the battle against militancy in urban areas of the country. Issues of command and control would have to be carefully addressed prior to any operation being launched, as would who dealt with any prisoners taken, who treated the wounded or paid compensation for damage to civilian property.

It is for these reasons as well as a host of other unanswered questions that we advise caution. The defence minister is offering himself as a hostage to fortune by predicting a 2015 victory, especially when there is agreement on all sides that the war against terrorism is never going to be won by military means alone. His assertion that the operation is in its "final stages and the country will soon usher in a new era of peace and prosperity" lacks heft, the more so as the National Action Plan is seen to be failing across much of the country.

Let us not be beguiled by false dawns. The military has done what was asked of it and done it valiantly. The civilian side of the equation has yet to make good on its promises.

Published in The Express Tribune, June 16th,  2015.

Like Opinion & Editorial on Facebook, follow @ETOpEd on Twitter to receive all updates on all our daily pieces.
COMMENTS
Comments are moderated and generally will be posted if they are on-topic and not abusive.
For more information, please see our Comments FAQ